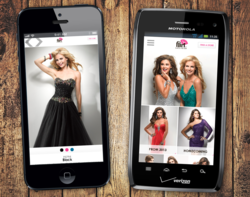 Columbia, Md. (PRWEB) January 22, 2013
Maggie Sottero has made a name for herself as one of the most sought after bridal gown design manufacturers in the world. Having received honors from the Desert Rose Awards, The UK Bridal Buyers Awards, Wedding Ideas Best Dress Designer Award, among others, Maggie Sottero is a force to be reckoned with when it comes to looking your best.
In 2005, Maggie turned her attention (or a portion of it at least) to bringing her unique touch to elegant formalwear in the form of her Flirt Collection. Now, thanks to the team at FiddleFly, the Flirt collection is on full display to a whole new audience, smartphone (and coming soon, tablet) owners.
The new site, located at m.flirtprom.com, gives mobile users one-touch access to learn about the Flirt collections (ranging from Prom to Little Black Dresses) as well as locating stores that carry the brand, seeing samples of dresses in different colors and styles, connecting with the company through all their social media channels, and even sharing their favorite items on their own networks.
With over 25% of web traffic now coming from mobile and local search via mobile devices skyrocketing, creating engaging mobile experiences has become essential. The folks at Flirt were not content to simply create a mobile site, they wanted a mobile experience that would match the quality of their dresses, both visually and functionally. The FiddleFly team set out to deliver that, and was able to capture the elegant, fun nature of the Maggie Sottero brand while making sure to keep the user experience a top priority.
The Flirt collection is the latest in a line of custom mobile site builds that the FiddleFly team has taken on over the past year. Now housing one of the largest mobile design and development teams in the country, FiddleFly has been able to concept, design, and build some of the most innovative and efficient mobile experiences in the industry.
To check out the Flirt site, simply visit flirtprom.com from any smartphone, and if you are looking for a custom mobile site or a mobile partner for your agency, you can visit https://fiddlefly.com/partner.