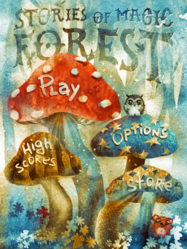 San Francisco, CA (PRWEB) August 28, 2012
Welcome to the Magic Forest, a place filled with adorable creatures and fairies, magnificent groves of trees, and enchanting snowy plains, and more. Though things may seem peaceful, the creatures of the forest are unable to get to their homes due to glass blocks, jello, and other items blocking their way. Its up to you to tap the blocks out of existence so the cuddly little animals can get to their nests.
Magic Forest, the latest game from app developer Alfa Production LLC, is a physics-based puzzle game where players will use critical thinking skills to determine how they can help the creatures of the Magic Forest get to their homes safely. Along the way, players will have the opportunity to collect candies, jewels, and coins to increase their score. With 80 challenging stages across 5 unique levels, both adults and kids will find themselves occupied with this brainy puzzler. The game also has an original, imaginative art design and tons of beautiful, inspired backgrounds that set it apart from others in its class.
The puzzles are definitely a bit of a challenge, says Alfa Production General Manager Andrey Dmitrichev, but I think it will be a great way for younger players to develop their logical thinking skills and for adults to keep their mind sharp. Ultimately, I hope for players of all ages to find something they can like about this game.
The game, available now on the App Store, is compatible across all iOS devices, and requires iOS 4.3 or later. It is free to download, but requires an upgrade for all 80 levels of the game.
Download Magic Forest for the iPhone:http://bit.ly/QKRRao

Download Magic Forest HD for the iPad: http://bit.ly/PVZDSt

Game Trailer: http://bit.ly/SITyew


About Alfa Production, LLC:
Based in San Francisco, Alfa Production LLC is a developer and publisher of quality gaming and entertainment apps. Viewed as professionals in the business, Alfa Production LLC was actively engaged in web development, web design and SEO since 2004. In 2011 the company shifted their main expertise to the world of mobile app creation and publishing. With over 50 apps to their name, Alfa Production strives to deliver the best, most up-to-date and innovative apps on the App Store, Google Play and Amazon.
###
For Press Inquiries, please contact,

Paige Kirchubel

Appency for Alfa Production LLC

paige(at)appency(dot)com

916-835-4613