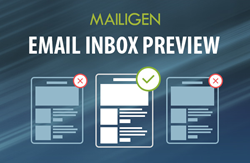 (PRWEB) May 19, 2015
In May 2015 one of Europe's leading email marketing services, Mailigen, launched a new email marketing tool for template viewing before hitting send. Email Inbox Preview shows how an email is displayed in all major mobile, webmail, and desktop clients. This allows the fixing of any rendering problems before an email gets sent, and therefore delivers perfect-looking emails to all subscribers.
Since email marketing has turned from an all-addressed approach to a highly personal approach, correct email display in every email client is essential, especially on mobile devices. According to the study Consumer Views of Email Marketing 71.2% of recipients will delete an email if it does not show correctly.*
Instead of facing embarrassing issues after receiving campaign results, now marketers can see results before sending. We launched an email marketing tool that instantly accesses an email preview for more than 100 combinations of the most popular email clients, web browsers, operating systems, and mobile devices in order to fix rendering or design problems. Our pre-launch tests showed a 48% increase in email click through rates if emails display perfectly. Our aim is to stop email marketing performance from being reactive. This new feature gives our email marketing software an extra high level of proactivity, said Janis Rose, CEO at Mailigen.
Rose goes on to say that 56% of Mailigen customers performed segmentation in 2014 to send personalized emails.** In response to customers' demand for more in-depth personalization, this email marketing tool was created. A combination of Email Inbox Preview and segmentation creates the highest level of email personalization. Mailigen campaign reports give information as to which browsers and devices are used among subscribers to open and click emails. This allows marketers to pay particular attention to those email clients when running preview tests. For deeper personalization, marketers are able to segment their email database according to devices and browsers, and create perfect-looking emails for each separate segment.
Email Inbox Preview is not the only proactive email testing tool that was launched in 2015. Recently, Mailigen launched Subject Line Advisor, an email subject line testing tool that instantly predicts the open, click, and delivery rates of email campaigns prior to being sent. This year, Mailigen will also be launching other innovative email marketing tools.
About Mailigen
Mailigen.com is one of the world's leading web-based email marketing services for any size of business or organization, as well as for individual users. Mailigen offers email, mobile, and social media marketing to customers in more than 100 countries all over the world. For more information, please visit Mailigen.com.
*Source: Consumer Views of Email Marketing (2014), Blue, EmailMonday.com

**Source: Mailigen customer data from 2014