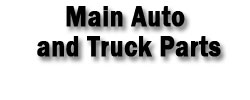 San Antonio, TX (PRWEB) April 02, 2013
In a new partnership with Hearst Media Services, Main Auto and Truck Parts in San Antonio will be establishing a greater online presence through the use of a digital media marketing strategy. Main Auto and Truck Parts is an auto salvage yard that has been serving the San Antonio area with the best selection of auto parts for over 50 years.
The marketing strategy for Main Auto and Truck Parts will include a variety of digital products, all of which will provide customers with an enhanced online experience. Main Auto and Truck Parts will have a new website, social media management, a mobile website and press releases. They will also have search engine optimization that is managed to give them better standing in search results. The marketing plan and tools will also provide analysis that allows them to track how well all the products are working.
Customers can now visit the Main Auto and Truck Parts, Facebook and Google Plus pages, follow the Twitter Feed and check in with Four Square. There will be updates and announcements through these applications, as well as press releases which will announce detailed news.
About the company:
Main Auto and Truck Parts in San Antonio, is very inexpensive auto parts salvage yard, and used auto parts business located on 8710 New Laredo Highway, 78211. Main Auto and Truck Parts has thousands of salvaged parts from all makes and models, to choose from. This auto salvage yard has unbeatable prices, clean auto parts, and they carry the largest selection of hard-to find used auto parts, or used engines for both foreign and domestic automobiles. Opting for used car parts at junk yards is the smart and economical choice. Main Auto and Truck Parts is located at 8710 New Laredo Hwy and is open Monday Saturday. For more information, please call (210)932-1100.