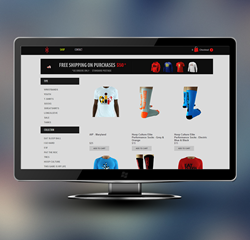 Scarborough, Maine (PRWEB) July 29, 2014
Hoop Culture, a company for athletes from athletes, truly lives their mission by changing lives through the sport of basketball. Now, taking their web presence once step further, the brand recently revamped their website to be more user-friendly and e-commerce-centric.
Hoop Culture worked with OSC Web Design, a Maine-based web design and web marketing company that specializes in e-commerce websites to create a more robust e-commerce engine for basketball enthusiasts everywhere. The developers at OSC started by taking Hoop Culture from selling at only events to creating an portal for online sales. Not only did this basketball apparel company meet their sales goals, they exceeded them!
We hired OSC to build our web presence and maintain our website and internet marketing. I couldnt have been more pleased. Very professional and amazing quality," says Mike Brown, President of Hoop Culture. [OSC has] allowed us to grow our business 100% month over month. I would recommend them to anyone that needs web development and internet marketing.
Hoop Culture, a brand that boasts over 58,000 followers on Facebook, over 44,000 followers on Instagram, and over 18,000 followers on Twitter, consistently works with OSC to optimize their online sales and make the most of them. It was key to the success of the new Hoop Culture website to implement social media components, including allowing for coupons and special offerings to both mail subscribers and social media fans.
Similarly, OSC is proud to be working with a company like Hoop Culture as they truly believe in the movement of basketball apparel and its ability to get kids involved in playing the sport as an after school activity. Not only does Hoop Culture have an excellent product and now a great platform to sell it from but they also have a powerful purpose that drives them every day.
About OSC Web Design: OSC Web Design specializes in designing and building websites for small businesses, as well as helping companies with web marketing, including Search Engine Optimization, Social Media Marketing, and Email Marketing. Get started with OSC by getting a free website audit & consultation!