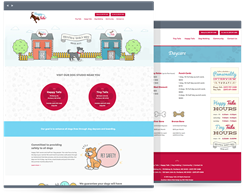 Scarborough, ME (PRWEB) April 28, 2015
Happy Tails, a Portland, Maine-based dog daycare and boarding center, recently launched a new website designed and developed by OSC Web Design. With two convenient locations (Bishop Street and St. John Street) in Portland, Maine, Happy Tails has a primary focus on pet safety. Staff members take the time to get to know each and every dog that comes through the door and ensure their safety throughout the pets visit.
OSC Web Design, also a Southern Maine-based company, specializes in creating beautiful and functional web designs for Maines small businesses. Every website OSC creates is responsive, which means they will be easily viewed on every device from desktops to tablets to smart phones. In addition, OSCs small business web designs aim to both brand and create interest for the sites visitors. Customized designs with interesting details like Happy Tails playful cartoon pups are one example of this.
OSC Web Design went above and beyond our expectations from day one, said Alexandra Felton, General Manager for Happy Tails. They took the time to find out what we wanted as far as design and function, and then created our website according to our vision. We're so happy with the finished product! It's fun, streamlined and user-friendly; exactly what we were looking for.
The new Happy Tails website needed to showcase both of their convenient Portland, Maine locations. Moreover, the companys services and their emphasis on pet safety were important to the owner. Both of these goals were accomplished by design: whether through those interesting details or functional navigation.
About OSC Web Design: OSC Web Design specializes in designing and building websites for small businesses, as well as helping companies with web marketing including Search Engine Optimization, Social Media Marketing, and Email Marketing. Get started by contacting us today.