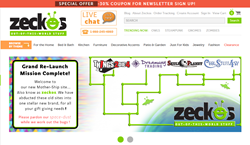 Winter Springs, FL (PRWEB) October 16, 2014
Zeckos, formerly Dreamway Trading, LLC, today announced the re-launch of its new and improved eCommerce site that now combines four brands into one newly branded online store. The new Zeckos.com provides its customers with a complete omnichannel buying experience through a responsive site design that optimizes customer experience on desktop, tablet, and mobile. By utilizing the ShopVisible eCommerce platform, Zeckos is now equipped to optimize their back end processes and centralize orders from online marketplaces, such as Amazon and eBay, and Zeckos.com. With more than 18,000 SKUs and several hundred new products being added weekly, the new Zeckos site is now responsive enough to share real-time inventory for consumers and self-service features like live chat and helpful blogs.
Zeckos underwent a complete re-branding to combine its four different online catalog brands into one giant online retail marketplace of out-of-this-world stuff. For more than 15 years, the company has served its online customers, originating with auction sites and eventually through its first eCommerce site in 2005. As the company and product line grew, Zeckos settled into its own two warehouses, grew its inventory, and continued to focus on providing customers with excellent service, fast shipping, and an enjoyable shopping experience. As Zeckos outgrew its second eCommerce platform, company leaders noticed the significant amount of web traffic coming from mobile devices, which signaled a need for a responsive site design to flawlessly accommodate the omnichannel buying experience.
Zeckos chose ShopVisible for its award-winning technology and industry expertise to launch a responsive site that serves buyers through all channels and on all screen sizes, while also efficiently managing inventory and boosting on-site traffic through SEO strategies. Moreover, the use of ShopVisibles technology now provides online marketing support and the segmenting of eCommerce data to support Zeckos re-branding transition, which has already led to an initial boost in search rankings, greater visibility across channels and an increase in order values through features like cross-sell and upsell functionality. Zeckos will capitalize on ShopVisibles innovative reporting tools to further optimize its eCommerce strategy based on real customer data and buying behaviors.
As more customers started to browse and purchase on the mobile devices, we knew it was time to re-platform, said Jeff Bishop, CEO of Zeckos. The ShopVisible platform delivers on all of our top tier needs for our site re-launch: responsive design, channel integration, product data segmentation, order management, and inventory visibility. As we combine four businesses into one new brand, we look forward to serving our customers more efficiently, providing them the best shopping experience possible.
Were very excited to partner with Zeckos as they re-brand and look to enhance their current eCommerce strategy, said Sean Cook, CEO of ShopVisible. The functionality on the site not only brings customers to a one-stop-shop while simplifying back-end processes, but it also enhances the fast-shipping capabilities and quality service that is so important to Zeckos and its customers. We are confident that these new features will allow Zeckos to maintain long-lasting relationships with new and existing customers, better-serving them across multiple channels.
###
About ShopVisible

ShopVisible is an end-to-end SaaS commerce platform that powers the shopping experiences of today. Whether your customer is an individual consumer or a business, we power the commerce sites that enable them to buy from you. Reach your customers online, on their mobile devices or through popular channels like Amazon and eBay. ShopVisible also enables your back office management including orders, inventory, channel, content management and more. With our APIs, the ShopVisible commerce platform is extensible and easily integrates to 3rd party systems such as fulfillment, ERP, PIM, and other platforms that are core to your business. ShopVisible helps brands and businesses to attract and retain the new connected customer and is the chosen platform for companies like 3M, London Fog, Tempur-Pedic, Marbles: The Brain Store, Plow & Hearth and MovieMars. Learn more at ShopVisible.com and by following @ShopVisible.
About Zeckos

Welcome to the bizarre bazaar that is Zeckos, an unparalleled accumulation of items to suit unique style preferences, gathered from the far reaches of the galaxy. Here, you will find the perfect gift for the person that seems to have everything or a spectacular something for yourself from a selection that is truly out-of-this-world. With the fastest shipping on the planet and the friendliest humans on Earth, Zeckos is your one stop shop for weird and wonderful treasures.
Formerly known as Dreamway Trading, Things2Die4, Skull Planet, and CoolStuff4U, Zeckos is a family owned and operated business located in Winter Springs, Florida. Since 1998, the company has grown from a one man operation to a dedicated staff of 25 individuals as unique as the items we carry. With over 16,000 items in stock and hundreds more added weekly, we truly have something for everyone. For more information, visit zeckos.com.