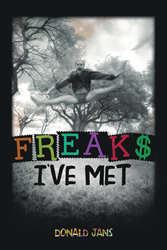 PORTLAND, Ore. (PRWEB) April 17, 2015
College graduate Jack Fitzpatrick isnt the first man tempted into playing in what he found to be a hedonistic, money-obsessed, and sometimes ethically questionable world of finance, but he probably didnt expect to end up in jail . . . or for things to get even worse.
Author Donald Jans new book, Freaks Ive Met, follows Jack Fitzpatrick in his misguided quest to move from Spokane to California to make big money in the finance sector.
Its a 23-year-olds take on the modern parable of the doe-eyed young man thinking theres endless money with his name on it in the bond market, and he is not afraid to tell you his truth, Jans said. Think Wolf of Wall Street meets the humor of Daniel Tosh or Chelsea Handler.
Its also a story that explores the mindset that can cause someone to leave behind their smaller town and fall prey to the quest for the almighty dollar. It is common for small towns to have limited industries to make money, placing fresh graduates in the position of either settling with the local powers that be, or leaving for greener pastures . . . or salaries with more green.
Jans himself spent more than twenty years in the institutional bond market, providing plenty of fodder for the story. He is excited to share his new book and hopes readers will resonate with Freaks Ive Met.
Freaks Ive Met

By Donald Jans

Available in softcover, hardcover, e-book

Available on Amazon, Barnes & Noble and Google Play
About the author

Donald Jans is a Chartered Financial analyst and Gonzaga University alumnus. He survived more than twenty years in the institutional bond market and encounters with all kinds of "freaks." The author of several screenplays, he is currently working on his second novel. He lives in Portland, Oregon, with his two small children.
# # #
**FOR IMMEDIATE RELEASE**

For review copies or interview requests, contact:

Craig Cainkar

(317) 602-7137

ccainkar(at)bohlsengroup(dot)com