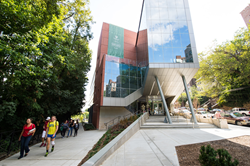 Riverdale, NY (PRWEB) October 08, 2014
On Wednesday, Oct. 15 at 10 a.m., Manhattan College will formally dedicate the Raymond W. Kelly 63 Student Commons. The building is named for former NYPD police commissioner Ray Kelly, who graduated from Manhattan College in 1963, and is one of the Colleges most renowned and respected alumni. In a joint venture between Edward I. Mills & Associates and Perkins Eastman Architects PC, it also is the Colleges first LEED (Leadership in Energy and Environmental Design) certified building on campus.
"Witnessing the completion of this outstanding centerpiece on campus is a true honor for me, Kelly said. Manhattan College holds a special place in my life and I hope this will be a special place for all members of our community.
The 70,000-square-foot building serves as the new crossroads of campus, linking the north and south parts of campus. A true community space, the Kelly Student Commons significantly enhances the Colleges ability to integrate academics and student life programming, and provides space for fitness and wellness programming, dining, study, and cultural and community events.
Manhattan College is proud to have this opportunity to acknowledge Raymond W. Kelly, a great New Yorker and great American whose legacy of service to city and country will be permanently honored in the name of this beautiful and important building, said Brennan ODonnell, president of Manhattan College. The Kelly Commons is the jewel in the crown of many years of strategic planning, though which Manhattan has transformed itself into a majority-residential college drawing students from near and far. It would not have been possible without the unparalleled generosity of this community led by former board chair Thomas OMalley 63, by Commons Campaign co-chairs Kenneth Rathgeber 70, Eugene McGrath 63 and Fred Salerno 65, Development Committee Chair Michael Regan 63.
The student commons features include: