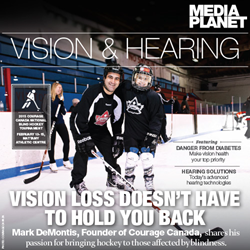 (PRWEB) December 20, 2014
The print component of Vision and Hearing is distributed within todays Home and Business subscription of the Toronto Star, with a circulation of approximately 230,433 copies and an estimated readership of 622,169. The digital component is distributed nationally through a vast social media strategy and across a network of top news sites and partner outlets. To explore the digital version of the campaign, click here.
The publication features an exclusive interview with Mark DeMontis, sharing his experience with vision loss. Demontis rollerbladed 5,000 kilometres across the country, raising funds to start Courage Canada, a charity that fosters the sport of blind hockey. Fortunately I have a great family, friends, and community here in Toronto where I grew up, and I received a lot of support. I did go through a pretty tough time, but was eventually able to bounce back.
It also features important information regarding diabetic macular edema (DME). Dr. Keith Gordon, Vice-President of Research at the CNIB, notes Early detection of DME is important, since early treatment means improved success in preventing vision loss or maintaining current levels of vision. More than half of diabetics said they were unaware that their disease could result in vision loss, which is why scheduling regular eye exams is so important.
Special thanks to Bayer, Allergan, and The Canadian Hearing Society, among others, for their support and contributions in the making of this campaign.
About Mediaplanet

Mediaplanet is the leading independent publisher of content-marketing campaigns covering a variety of topics and industries. We turn consumer interest into action by providing readers with motivational editorial, pairing it with relevant advertisers, and distributing it within top newspapers and online platforms around the world.
# # #
Press Contact:

Jacob Weingarten

jacob.weingarten(at)mediaplanet(dot)com

416-583-2224