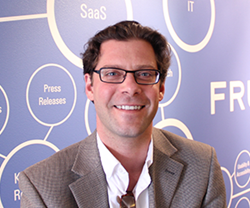 Denver, CO (PRWEB) November 07, 2014
For Mark Kranjcec, building strategic business partnerships is second nature. With over 14 years of experience in digital and traditional marketing, he will bring a vast amount of knowledge and expertise to the Fruition team as Director of Strategic Partnerships.
After receiving his Bachelor of Science in business administration, marketing and entrepreneurship from the University of Colorado at Boulder with top honors, Kranjcec started at the Daily Camera, where he moved up the ranks to retail advertising director. While he was at Daily Camera, he also served as the advertising manager of Dirt Newspaper and its website. In this role, he led a successful launch of Scripps first Gen Y publication.
Prior to joining Fruition, Kranjcec served as the Director of Digital Solutions at Prairie Mountain Media, a division of Digital First Media comprised of 16 newspapers throughout Colorado. He also serves as a board member and marketing volunteer for B Strong Ride, an annual bicycle event that honors cancers survivors and raises money for Boulder Community Hospital Integrative Cancer Care Center and the George Karl Foundation.