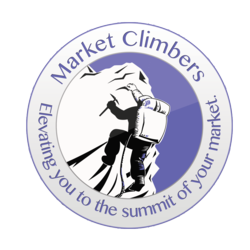 Olathe, KS (PRWEB) June 03, 2013
Market Climbers has just announced it is making major changes to several of its SEO packages. The Dominate SEO Package delivers custom content creation and distribution to quality websites focusing on three keywords. It will now also include monthly press releases, Twitter creation and targeted following, and blog writing. The Professional Package will now include quarterly press releases and blog writing. Owner and internet marketing expert, Brian Roehm explains that the changes are due in large part to Google's Penguin updates. "Online Marketing is revolves around utilizing leverage to create momentum and traffic to a website. We have found that press releases are an excellent match to our cutting edge marketing. Together they provide that leverage to really rocket a client's keyword rank in the search engines."
Clients under a monthly package will have the option to continue with their current package or transition to the new packages and offerings.
Market Climbers is owned and headed by Brian Roehm. They focus on search engine optimization services and social media consulting. Their proven expertise in natural, "white hat" SEO ensures that their clients online marketing campaigns yield favorable results and that their websites achieve those high page ranks on search engines. Its current services include SEO packages (Dominate, Professional, and Promote), social media marketing (Facebook, Twitter, and Pinterest), text marketing, SEO reputation repair, email marketing, and traditional media buys (billboard, radio, tv, etc).
Brian describes Market Climbers approach to marketing, "We've really focused on not just being an SEO firm but a comprehensive marketing firm. This allows us to provide a comprehensive solution to our clients that drastically increases our clients visibility and bottom line."
All of Market Climbers services are metric focused. Quarterly reports are standard and include easy to understand results and descriptions of current and future marketing efforts. Brian remarks, "If you're serious about marketing, we're serious about making you succeed."
Market Climbers also offers a marketing checkup. Clients will be able to get a thorough review of their website before they choose a marketing package. This is not a repair, but a comprehensive assessment that helps our clients choose the package that is best for them. "Whatever package our client chooses, we want to make sure that it will be of value and provide the results our clients need and expect from us," remarks Brian.
For more information on how Market Climbers works to help businesses maximize their online potential, go to their website, http://www.marketclimbers.com, or get in touch with their SEO experts today.