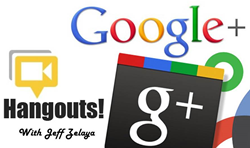 Washington D.C. (PRWEB) April 04, 2014
If you are looking to expand the awareness of your business then this could be the perfect opportunity for you. Jeff Zelaya has just posted an announcement on his blog stating that he is seeking guests for his upcoming Google+ Live Hangout.
Jeff says, "Being a featured guest on my show is a great way to pay it forward by potentially sharing your valuable business wisdom with thousands of viewers who are hungry to learn from the best in the industry."
According to various third party analytics reports, Jeff's blog, youtube channel, media coverage and social networks generate an average of 1 million impressions per month. Although, Jeff acknowledges that 1 million impressions might not be a lot when compared to the famous celebrity blogs and popular tech websites, but he does add that:
"For a Startup, Solopreneur, Public Speaker or Consultant, an appearance on my show could be just the thing to reach a bigger audience that can take their business to the next level."
Jeff then states:
"However, if we can reach and motivate just one person watching, then it makes it all worth it. I've always believed that if you help enough people around you reach their goals, then you too will reach yours!"
Jeff's past Google+ Hangout guests have included:
Yuhannes Watts

Evan Weber

Alex Miranda

Jackie Jimenez

George Thomas

Brian Breslin

Alex Cequea

Joelle Ayala

Rafael Sangiovanni

Heather Mahoney

Patrice K. Cokley

Ayman Al-Abdullah

Donnie Bryant

Sebastian Rusk
For more information on becoming the next guest on Jeff Zelaya's Google+ Hangout please go to:
http://jeffzelaya.com/2014/04/04/free-publicity-for-your-business-google-hangout/
About Jeff Zelaya:

Jeff Zelaya is a marketing, sales and public relations consultant. He's a professional public speaker and founder of Miami Public Speakers Inc. (South Florida's leading speakers' bureau). Jeff works at Vocus and is an award-winning Sales Executive and Trainer for this publicly traded cloud marketing software company based out of Beltsville, MD. Jeff, his wife Emma and his newborn son Elijah currently reside in the Washington D.C. area.