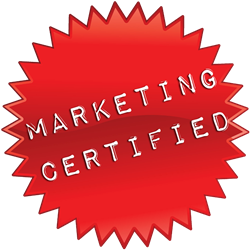 Santa Clara, California (PRWEB) March 21, 2014
MarketingCertified.com, the industry leading provider of online social media education, announced today the acquisition of SocialMediaCourse.com in a six-figure deal that is likely to be the most expensive domain purchase in the first quarter of 2014. In a strategic move that follows steady revenue growth, MarketingCertified.com will expand its reach through SocialMediaCourse.com, attracting more global monthly searches through the likes of Google, Bing, and Yahoo! Search.
A world-class social media presence has become one of the most important facets of a respected and recognized brand or individual, said Peter Seiler, President of MarketingCertified.com. With the acquisition of SocialMediaCourse.com, we are communicating to businesses and individuals worldwide that our mission is to bring education to people through an easy to follow program at an extremely affordable price.
The strategic decision to migrate to the SocialMediaCourse.com domain will not only generate stunning growth in web traffic, but also communicate to the companys growing list of Fortune 500 companies, government agencies, and celebrities that social media is a critical component of their brand, and it can be fully under their control if used correctly.
The move represents a game changing play in the online education arena, one of the fastest growing services in the online marketing space. MarketingCertified.com provides beginner and intermediate education through an easy to follow program covering the most effective social media channels including Facebook, Twitter, Pinterest, Flickr, Tumblr, Linkedin, WordPress, Google Plus, Youtube and more.
Social media education is still a wild-west when it comes to accurate content. said Seiler. Free online social media education is typically outdated and companies and individuals needlessly suffer when following poor advice and black hat practices. Furthermore, several renowned educational institutions are charging students tuition fees in the high thousands to enroll in their social media programs and they've also made erroneous promises in terms of what students will achieve through their social media classes. We give students real value with real expectations, and that is why there is no better name for our service than SocialMediaCourse.com.
MarketingCertified.com is already on track to achieve substantial growth in 2014. With more Fortune 500 clients and national government agencies than any other online social media education firm, the company has demonstrated its ability to create unique value and measurable social media equity for organizations and individuals.
To learn more about MarketingCertified.coms online social media course, visit http://www.marketingcertified.com
About MarketingCertified.com
MarketingCertified.com, founded in 2010, provides businesses and individuals with greater control over their social media presence online. Today, the firm is widely recognized as the leading social media education firm. MarketingCertified.coms team includes social media and search engine optimization (SEO) experts, web developers and media specialists. The companys clients include Fortune 500 brands, small businesses, public figures, private citizens, doctors, dentists, lawyers, financial planners, and even a handful of celebrities. If you're interested in creating and managing your social media presence online please visit http://www.marketingcertified.com.