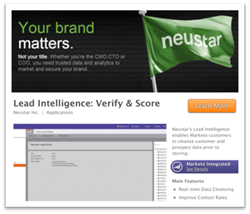 SAN FRANCISCO (PRWEB) April 13, 2015
Neustar, Inc. (NYSE: NSR), a trusted, neutral provider of real-time information services and analytics and Marketo, Inc. (NASDAQ: MKTO), the leading provider of engagement marketing software and solutions, today announced a partnership to give marketers the most accurate and complete data for consumer engagement. The integration further expands Neustars already-robust partner ecosystem.
By utilizing the industrys highly regarded repository of authoritative data linked to offline, online and mobile identifiers, Neustar helps marketers create up-to-date customer databases and allows them to maximize ROI by focusing on those customers and prospects with a higher propensity to buy.
Neustar and Marketo share a passion and dedication for transforming how marketers engage with customers, said Lisa Joy Rosner, CMO, Neustar. Marketers will now be able to achieve even more precision in their campaigns by combining the capabilities offered by Marketos leading Engagement Marketing Platform and Neustars Lead Intelligence solution. This integration delivers value to more B2B and B2C marketers in a wide range of industries and builds on our joint strategy to make our leading solutions available wherever marketers need them.
B2C marketers are often overwhelmed by the scale and complexity of marketing automation because of the sheer size of their target markets. By cleansing customer and prospect data in real-time, verifying contact information and scoring prospects for quality before the data is stored, Neustar and Marketo deliver a more accurate and robust process for adding value to B2C clients with large prospect databases.
Neustars Lead Intelligence Solution integration into Marketo enhances marketers insights into potential customers so they can better engage prospects with the right message at the right time over the right digital channel, said Sanjay Dholakia, CMO, Marketo.
Today mutual customers of Neustar and Marketo are embracing these solutions. Previously, changing customer contact information could diminish the accuracy of prospect data and result in increased costs and lost revenue. Customers are now able to create relevant conversations with their audiences, which can lead to more profitable interactions.
Control today is shifting to the customer as marketers are increasingly faced with large volumes of ever changing data with which to evaluate, validate and synchronize. To deliver real time marketing, which is the goal, platform solutions must not only be flexible enough for adjustment in real time, but the customer and prospect data that underlies campaigns must remain constantly fresh and relevant to ensure marketers are reaching and converting the right people, said Randy Giusto, VP and Practice Lead, at Outsell, Inc., a leading research and advisory firm focusing on information, media and technology.
With Neustars Lead Intelligence solution, marketers can: