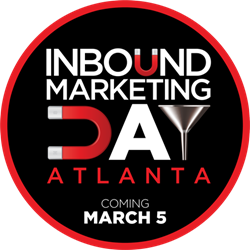 Atlanta, GA (PRWEB) February 10, 2015
On March 5th, marketing and sales professionals will come together at Atlantas first Inbound Marketing Day, #IMDAtlanta, to learn from experts and share their own experiences with peers. The event is part of Inbound Marketing Week 2015 a globally coordinated series of events centered around inbound marketing best practices and techniques to drive leads for businesses. Marsden & Associates is one of 6 Atlantabased marketing firms hosting the event, and will be conducting their workshop during the afternoon sessions.
This event is a fantastic opportunity for area marketing and sales professionals to come together to learn, get motivated, and share with peers the latest techniques and trends in Inbound Marketing, said Anne Marsden, Principal and founder of Marsden & Associates, As a leading inbound marketing agency to B2B clients around the country, were excited to both host and present at Inbound Marketing Day Atlanta.
Inbound Marketing Atlanta is March 5th, at the ROAM Dunwoody facility. Attendees to the daylong event will hear from an impressive line-up of globally recognized authors, bloggers, and speakers including: