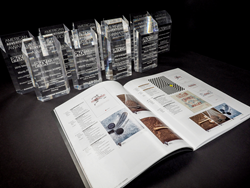 Scottsdale, AZ (PRWEB) March 24, 2015
Martz Parsons, a top-ranked, full-service advertising and public relations agency based in Scottsdale, won 11 awards in various categories at the 2015 Phoenix ADDY Awards. ADDY Awards are the advertising industrys largest and most representative competition, attracting more than 40,000 entries each year in American Advertising Federation (AAF) club competitions. The mission of the ADDY Awards is to recognize and reward the creative spirit of excellence in the art of advertising.
Martz Parsons took home one gold and seven silver awards for its Armored Nutshellz campaign titled Protect your Equipment. The agency also earned two silver and one bronze for its Valley of the Sun YMCA entry.
The Agencys rapid growth over the last 16 months, since it was acquired by well-known businessman and philanthropist Bob Parsons, has catapulted its ability to support its clients. The Agency has more than doubled in talent, bringing in top players including David Richardson as the Chief Digital Officer and Patrick Kelley as the Chief Creative Officer. Richardson has more than 30 years of agency experience, many spent creating and hosting websites for large, national clients like NASCAR, Pulte Homes, The Dial Corp. and Arizona Diamondbacks. Kelley has 20-plus years of marquee agency experience and has worked at several of the top creative shops in the world.
Its a testament to the expanded talent we have added to the Martz Parsons agency over the past year that we went from two ADDY awards in 2014 to one gold, nine silver and one bronze this year, said Martz Parsons Chief Creative Officer Patrick Kelley. I believe this recognition reflects the teams dedication to creative excellence and their commitment to elevating our clients brands."
The success of both the Armored Nutshellz and Valley of the Sun YMCA campaigns affirms Martz Parsons growth into a major player in the regional and national markets.
Martz Parsons will move on to compete in the upcoming Regional AAF Award Competition that showcases work from organizations in Arizona, Wyoming, Colorado, Utah and New Mexico. The winners will advance to the national competition taking place on June 13, 2015.
For more information about Martz Parsons visit http://www.martzparsons.com.
About Martz Parsons

Martz Parsons, a YAM Worldwide business is one of the top 20 advertising and public relations firms in Arizona with more than 30 years of experience. Martz Parsons provides a full range of marketing and public relations services to the agencys diverse clients. The full-service agency offers local, national and international advertising and strategic marketing services such as creative, media, branding, promotions, collateral, social media, research and interactive media. Learn more at http://www.martzparsons.com.
About YAM Worldwide

YAM Worldwide is based in Scottsdale, Arizona. Privately held since its formation, the company employs more than 340 Arizonans and 50 Mississippians. The company is home to the business ventures of Bob Parsons, best-known as the founder of GoDaddy, in the fields of motorcycles, golf, real estate, marketing, innovation and philanthropy.
Core businesses include LZ Delta, L.L.C. which owns Harley-Davidson of Scottsdale, Go AZ Motorcycles and Spooky Fast Custom Finishing; MS LZ Delta, L.L.C which owns Southern Thunder Harley-Davidson and alternate retail outlets Graceland Harley-Davidson and Blues City Harley-Davidson; Scottsdale National Golf Club; Martz Parsons; YAM Capital; YAM Properties; Parsons Xtreme Golf; and The Bob & Renee Parsons Foundation.