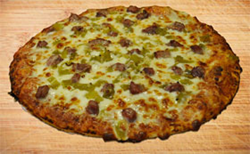 Paso Robles, CA (PRWEB) June 06, 2015
Paso Robles Pizza Parlor and Sports Bar Marvs Original Pizza Co. announced this week that they have added two new flavors to their lineup of premium pizzas.
Their first new flavor is the enticing Tri-Tip and Green Chili pizza, which features morsels of choice tri-tip and spicy diced green chilies. This flavor is already a customer favorite, said owner Randy Syracuse. Tri-tip is very flavorful, lean and tender and the green chilies compliment the tri-tip nicely. Its a delicious combination.
The other new flavor is the Margherita pizza: a fresh take on a classic. A light pizza with olive oil, garlic, fresh basil, fresh tomatoes, mozzarella and Parmesan cheeses, its a perfect pizza to pair with a beer on a warm, Paso Robles summer night.
The Margherita
The Margherita pizza is a traditional Italian recipe. Marvs version features an olive oil and garlic crust topped with fresh mozzarella, tomatoes, and fresh basil.
Tri-Tip and Green Chili
The delicious tri-tip and green chili pizza is a Marvs creation, which features meaty chunks of choice tri-tip and spicy diced Green Chilies.
About Marvs Pizza
Marvs Original Pizza Co. dishes out the Central Coasts finest pizza in a casual, fun-filled atmosphere. Delicious food, delightful ambiance, and just a little daring experience that and more at Marvs Original Pizza in Paso Robles.
Long considered by locals as one of the best bistros in Paso Robles, they take pride in crafting their pizzas with only the freshest ingredients. Their dough is made fresh daily, topped with a choice of classic red, creamy white garlic, pesto or tangy barbecue sauce and the finest whole-milk mozzarella cheese.
Marv's has award winning, gourmet pizzas, classic pasta dishes, creative salads and sandwiches, plus features a large selection of beer and premium local wines. In fact, theyve got a complete Italian menu, and their location overlooks Paso Robles beautiful Downtown City Park.
They deliver, so patrons dont even have to visit their location to get some great food though they love to see their customers in person as well! Catering services are also available so give Marvs Original Pizza a call when planning a big event.
Marv's Original Pizza Co

729 12th St

Paso Robles, CA 93446

(805) 238-1851
Press release by San Luis Obispo SEO company Access Publishing, 806 9th Street, #2D, Paso Robles, CA 93446 (805) 226-9890.