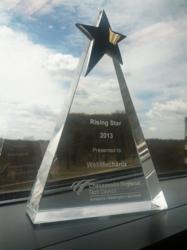 (PRWEB) March 31, 2013
Businesses working in the Maryland, DC, or Virginia areas, have likely heard the name WebMechanix when attending technology networking events. This young, progressive digital marketing agency has made quite a name for itself in recent years by providing high-end digital marketing services for businesses around the country looking to significantly grow leads online.
WebMechanix is a dedicated supporter and sponsor for many Chesapeake Regional Tech Council (CRTC) events, including the Eighth Annual TechAwards held in mid-March. WebMechanix typically attends these events to help attendees learn quick and easy ways to optimize their websites with on-site audits.
Cofounders, Chris Mechanic and Arsham Mirshah, were shocked to find that their company was awarded 2013s Rising Star Award after being in business for a short four years.
Arsham Mirshah describes how it felt to win this award, its absolutely amazing. Its hard to think that only four years ago we were sitting at a kitchen table with a couple computers and now were in a corporate office with an entire team. Were very thankful for what we have this region welcomed us with open arms and weve acquired a team of rockstar employees. The CRTC is a wonderful organization and theyve been a huge help to our business.
The Eighth Annual TechAwards honored tech companies that have started growing as pioneers and leaders in the region. These great companies are presented to hundreds of other techie executives and staff who come out to see this CRTC event.
The Rising Star Award is given to a company that has been noticed by the tech community as growing and advancing in their industry or area of expertise. This is only the third time that the award has been presented. Last year, it was given to Mindgrub, a technology innovation company that shares many ties with WebMechanix, and who went on to win the Tech Company of the Year Award.
Keep an eye out for these Rising Stars in coming months. Theyve grown rapidly in the SEO/SEM space and continue to deliver the newest Digital Marketing techniques to over 50 companies in the region.
About WebMechanix

WebMechanix is a Digital Marketing Agency based out of Columbia, MD. Their team is made up of a young, motivated group of web developers, Internet marketers, and digital strategists whose sole purpose is Snowballing ROI for all clients.
What started as a two-man show at the kitchen table of a small town home is blossoming into a leading Mid-Atlantic marketing agency. Contact WebMechanix today if youre looking for someone to supercharge your business web presence.