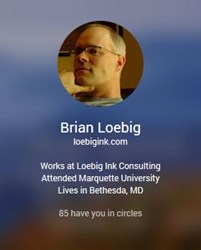 Bethesda, Maryland (PRWEB) November 30, 2013
Loebig Ink Web Consulting has significantly expanded its reach with several key business partnership opportunities including Philip Day Communications in Charlottesville, VA, Megale PR in New York, Asian Marketing Services in Tyson's Corner, VA and the Bethesda Business Exchange in Bethesda, MD.
Business partnerships are considered by some business experts to be even more important than customer referrals. Business Networking International (BNI) CEO, Dr. Ivan Misner, stated in a recent Business Networking blog article that "With a well-developed referral network, you can realize more good referrals from one or two professional referral sources than from all your customers combined." This statement is definitely true for Loebig Ink Consulting.
Loebig Ink's longest standing business partnership with Philip Day Communications is a prime example of the importance of business partnerships. Mr. Day's business expansion has been facilitated through a very close relationship with Loebig Ink and both businesses share a reciprocity of professional services. Shared services include blog writing, web content management, social media management, press releases, web design, search engine optimization, copy writing, Internet marketing and small business consulting.
A partnership with Megale PR, based in New York and Northern Virginia, has also widened the reach of Loebig Ink into partnerships which include professional athletes, the National Museum of Americans in Wartime and small business startups.
Asian Marketing Services, also in Northern Virginia, reached out to Loebig Ink Consulting in 2013 to help develop the competencies required to meet a nascent demand for social media marketing services. Their first collaborative partner, Yogi Castle in Columbia, MD, has benefited from a professionally managed Facebook presence that reaches local customers with engaging content and special offers.
The most recent partnerships have been developing as a result of Loebig Ink's membership in the local BNI group called the Bethesda Business Exchange. Weekly networking meetings foster professional relationships that result in business referrals. One on one meetings have already yielded collaborations with Jett Training, LLC, Make It Count Marketing and Roye Productions.
Established in 1999 as a web design services business in Philadelphia, PA, Loebig Ink, now located in the Northern Virginia/Maryland/Washington, D.C. area, is a small business consulting firm specializing in Internet business solutions, performance improvement consulting, and small to medium-sized business development. Services at Loebig Ink include Web Design, Search Engine Optimization, Social Media Marketing, and Online Advertising. Owner and Author, Brian Loebig, has over 15 years of experience working in the fields of technology and quality improvement.