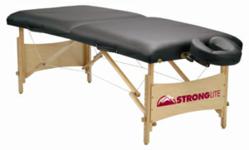 Calsbad, CA (PRWEB) December 21, 2012
MassageTools.com has been a leading online retailer of excellent quality massage tables and supplies for nearly ten years. MassageTools.com is a distributor of professional massage tables for most major manufacturers.
Annual price increases are nothing new, even in todays tough economy. Most massage table manufacturers and distributors have borne the brunt of increased material and shipping costs up to this point. Coming in 2013 are the usual 3-5% increases, but there are other factors at work.
Yahoo News reported December 2, 2012 in the article, "Los Angeles port strike triggers fears, lobbying by businesses", the west coast just ended a major labor dispute after an 8 day strike by clerical workers at the Los Angeles and Long Beach ports. It was estimated to cost the economy 1 billion dollars a day while the ports sat idle. Shipping lines have alluded to the possibility of additional fees to make up for the money lost due to extended wait times while anchored outside the port.
Most of our vendors have already provided us with price increases that will become effective January 1st, 2013, says Christian Peacox, President and CEO. The business climate is tough right now, but we are doing everything we can to keep price increases to a minimum.
There will be some notable changes on some of the most popular tables. Oakworks is planning to discontinue the Kela and increase the price of the popular One massage table package to $ 365. Earthlite is also increasing prices on certain upholstery options and accessories while Stronglite has already increased the price of their Ergo Lift electric massage table and accessory items.
Now is the time to buy a massage table. If bought before the end of the year, 2012 pricing will be to the customers advantage as well as the ability to write-off for business purposes. There are only 2 weeks left to get orders in and lock in at the current prices. Massage tables, including hydraulic massage tables, may not ship until after New Years, but can be invoiced and paid for in 2012.
About MassageTools.com

MassageTools.com has been providing Day Spa equipment and supplies to massage therapists and estheticians for nearly a decade. With the main focus being on customers needs, it allows MassageTools to become a valuable partner in business. MassageTools.com has in house experts with product knowledge and experience to help at every level. MassageTools.com sells a wide selection of equipment and massage supplies to meet everyones needs. For more information, please visit http://www.massagetools.com