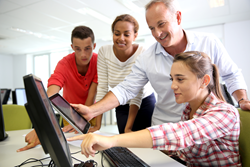 Santa Monica, CA (PRWEB) February 16, 2015
MatchCraft, the leading technology provider powering search engine marketing campaigns for local businesses, today announces a year-long partnership with Virtual Enterprises International (VEIs Santa Monica High School Chapter), a nonprofit organization that provides hands-on entrepreneurial training, work opportunities, and mentorship to high school students.
Everything MatchCraft does focuses on helping small local companies find more customers and grow their businesses, says MatchCraft CEO Sean Greene. Working with VEI lets us expand that focus to include the next generation of entrepreneurs.
MatchCraft will promote VEIs programs at the 10 digital marketing industry conferences the company is sponsoring in 2015. At each conference, MatchCraft will donate to VEI for each attendee, speaker or exhibitor who visits MatchCrafts booth, interacts with the company on social media, or leaves a business card.
Just about everyone we meet at these conferences is involved in a business that, in one way or another, supports the growth of local businesses, says Greene. Were eager to spread the word among our industry colleagues about the excellent work VEI is doing to build excitement and skills among entrepreneurially-minded students.
The funds MatchCraft raises will flow directly to the VEI program at Santa Monica High School, led by faculty adviser Teri Jones. Weve got dozens of students here at SaMoHi who are passionate about becoming business owners, says Jones. As part of VEI, we have two student-run businesses currently operating on the SaMoHi campus. Having this support from MatchCraft will allow us to expand our programs and provide hands-on entrepreneurial opportunities for even more business-minded high school students.
MatchCraft will also invite Santa Monica VEI students to learn about starting and running a business on-site at MatchCrafts headquarters. Joness students will be able to tour MatchCrafts offices and work directly with the companys leadership team on their business plans. The MatchCraft team includes tech startup veterans, small business marketing strategists and seasoned sales professionals, all of whom will share their experiences and coach the students as they develop their own business plans.
About VEI:

With an emphasis on college and career readiness, Virtual Enterprises International (VEI) is an in-school, live, global business simulation that offers students a competitive edge through project-based, collaborative learning and the development of 21st-century skills in entrepreneurship, global business, problem solving, communication, personal finance and technology.

Drawing on the European tradition of apprenticeships, this multidimensional, experiential learning model, which is part of a global network of student-run businesses in over 40 countries, transforms high school students into independent-thinking business professionals and their classrooms into offices.
About MatchCraft:

MatchCraft, a leading online marketing company based in Santa Monica, California, provides a best-in-class technology platform that enables companies to successfully sell manage and scale search campaigns for their clients. Unlike other marketing technology platforms, MatchCraft helps organizations efficiently manage even the smallest campaigns, enabling our clients to provide spectacular service to all of their customers. MatchCrafts sophisticated real-time bidding algorithms work hourly to deliver exceptional ROI for merchants around the world. The companys highly experienced team of account managers and dedicated performance managers watch over every campaign, tweaking and adjusting so merchants see tangible results month after month.
MatchCraft also empowers partners with a multi-faceted education program that prepares sales and support teams for success. MatchCrafts dedicated training team not only provides full product support but also works with each partners sales force to make sure sales reps have all the knowledge and tools they need to sell search marketing effectively.