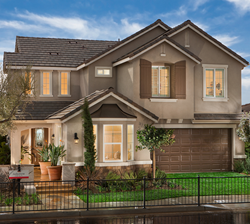 FRESNO, Calif. (PRWEB) April 28, 2015
McCaffrey Homes, a leading Fresno-area homebuilder, has been nominated for six 2015 Eliant Homebuyers Choice Awards, one of the highest honors in housing.
The 19th annual new-home owner satisfaction awards program is based on a comprehensive survey of 72,700 homebuyers who recently purchased from 128 major home builders. The latest nominations build on several prior Eliant Award nominations and wins for McCaffrey Homes.
Were honored to again receive multiple nominations in this leading survey of homebuyers, said Karen McCaffrey, Vice President of McCaffrey Homes. Every member of our team shares the same desire to deliver exceptional homes with great design, quality construction, and unmatched customer service to our homebuyers, she added.
A third-generation, locally owned homebuilder, McCaffrey Homes earned nominations this year in six of seven categories: Purchase Experience, Design Experience, Construction Experience, 1st Year Quality, 1st Year Customer Service, Percent of Sales from Referrals and Overall Purchase & Ownership Experience.
Year after year, I am impressed by the customer satisfaction ratings from McCaffrey Homes buyers and homeowners, says Robert Mirman, CEO of Eliant, Inc. The 31-year old company has evaluated new-home buyer satisfaction for more than 700 major homebuilders in the United States, Canada and the Middle East.
Compared to many other builders of similar size across North America, McCaffrey Homes consistently ranks in the Top Five, quite an accomplishment, Mirman said. And in this years Homebuyers Choice Awards, McCaffrey Homes has received finalist nominations in six categories, a feat matched by their nominations in each of the past three years.
For more than 35 years, three generations of the McCaffrey family have insured the firms continuous commitment to quality and customer satisfaction.
At McCaffrey Homes, we dont just build homes Karen McCaffrey said. We build dreams and neighborhoods that endure. The fact that 92 percent of our homebuyers who were surveyed would recommend us to their friends and family is the greatest honor we can receive.
Having constructed more than 8,000 homes, McCaffrey is now building in four communities in the Fresno and Clovis, Calif., area: The Gallery in Fresno, The Heights at Loma Vista, The Gallery in Clovis and The Heights on Copper. The Gallery in Fresno is currently offering final lots available for purchase. Learn more at http://www.mccaffreyhomes.com/gallery-fresno/the-gallery.html.
The company has begun planning the first Village of Tesoro Viejo, a 1,600-acre master-planned community in Madera County, with groundbreaking planned for 2016.
For more information on McCaffrey Homes, please visit http://www.mccaffreyhomes.com. For more information on the Eliant Homebuyers Choice Awards, contact Bob Mirman at (949) 753-1077 x12.