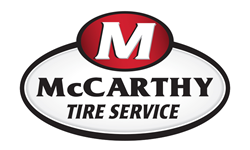 Wilkes Barre, Pennsylvania (PRWEB) May 01, 2015
Pennsylvania-based McCarthy Tire Service is on the move again, this time expanding its operations into Syracuse, New York. The McCarthy family has reached an agreement with the Cairns family, owners of Commercial Truck Tire Center.
With this expansion, McCarthy Tires operation grows to 45 service centers, seven Bandag retread shops and one off-the-road (OTR) retread facility in seven states. With a combined experience of over 115 years in the tire industry, both Commercial Truck Tire Center and McCarthy Tire have an unparalleled record of quality and service.
We are very pleased that the Cairns and McCarthy families have reached this agreement, said John D. McCarthy, Jr., president of McCarthy Tire Service. Commercial Truck Tire Center has an excellent reputation in the Syracuse market and their employees exhibit the high quality of customer care that has long been a McCarthy standard. Opening up in the same facility that has made Commercial Truck Tire Center a leader in their market, along with welcoming all of their employees into the McCarthy team, provides us with a great platform to continue and expand on the excellent customer service the Cairns family has been providing for over 25 years.
McCarthy Tire will continue to provide commercial tire sales and service at the location in East Syracuse. The site will be a part of McCarthy Tires 24-hour commercial road side assistance program available to fleets and independent operators in New York, New Jersey, Delaware, Maryland, Virginia, and North Carolina.
About McCarthy Tire

McCarthy Tire is a fourth generation, family owned and operated business based in Wilkes Barre, Pennsylvania. Founded in 1926, the company now ranks as the sixth largest commercial tire dealer in the United States with operations serving the commercial, industrial, off-the-road (OTR), and retail sectors of the transportation industry. McCarthy Tire is committed to providing quality customer service and cost effective products with its highly trained team of more than 950 associates and a fleet of 575 service vehicles. For more information, visit http://www.McCarthyTire.com.