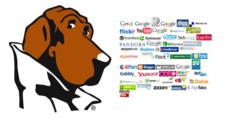 Fort Lauderdale, FL (PRWEB) September 04, 2012
As teens and tweens spend more and more time online on Facebook and other social networks, parents have lost their ability to stay on top of their childrens online activities. Parents need to be aware of their teens online life to keep them safe from cyberbullying, Internet predators and other online dangers. Today, McGruff SafeGuard announced a new release of McGruff SafeGuard for PCs that enables parents to monitor what their tweens and teens do on dozens of popular social networks.
McGruff SafeGuard intelligently monitors and records what teens post, chat or message about on Facebook, Twitter and many other top social networks. Once installed on a teens PC, McGruff SafeGuard sends a text or email to the parent if it detects potentially dangerous activity.
McGruff SafeGuard is designed to show a parent not just where a teen goes on social networks, but what they do there and with whom they interact. It records all of the teens online activities such as chats on Facebook, Google Talk, Skype and other social networks, as well as their email interactions on Gmail, Yahoo, Microsoft Live and others. Parents can visit the secure, parents-only, password-protected McGruff SafeGuard website to see what their child has been doing and restrict what they can do, if they so desire.
Monitoring for behaviors such as cyberbullying, loneliness, violence, sexuality, alcohol/drug usage or references, dangerous acronyms or being befriended by unknown individuals, McGruff SafeGuard analyzes a teens online behavior and warns parents of suspect activity. It can even translate teen chat-speak lingo, such as acronyms like LMIRL (lets meet in real life).
Parents can also view the websites their teen has visited, and control the types of websites they can visit. Block or allow content by topic, age or by creating a customized list of sites to block. Over 100 topics can be blocked including pornography, dating, violence, sex education, alcohol, drugs, gambling and many others.
McGruff SafeGuard provides these parental control features:
Records:

o