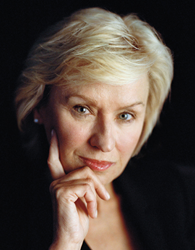 Los Angeles, CA (PRWEB) July 17, 2014
Tina Brown, founder of Tina Brown Live Media and the veteran editor of Vanity Fair, The New Yorker and The Daily Beast, will be the closing keynote speaker at the Network of Executive Women's New Executive Leaders Forum 2014, July 29-31 at the Terranea Resort outside Los Angeles. The Network is the retail and consumer goods industry's largest women's leadership organization.
More than 300 senior-level leaders are registered for the invitation-only event, which will include four keynote addresses, eight concurrent workshops, a panel discussion with women board directors, executive coaching sessions and more.
Ann Fudge, former chairman and CEO of Young & Rubicam Brands, will open the NEW Forum with her insights on "Unleashing Your Authentic Power, July 30. Al Carey, chief executive ofcer of PepsiCo Americas Beverages, will offer his perspectives on women's leadership in a dinner conversation that evening.
Vicki Felker, vice president of pet specialty, customer development group for Nestl