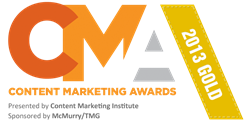 New York, NY (PRWEB) August 27, 2013
Mediaplanet is pleased to announce that it has been recognized by the Content Marketing Institute for its excellence in the field of content marketing, receiving the gold award for Best Supplement of 2013 at this years Content Marketing Awards.
Mediaplanet has been recognized specifically for its campaign "Employing America: Empowering Americas Tradesmen" which is an 8-page broadsheet print publication, that reached approximately 1.2 million readers through targeted distribution within the USA TODAY newspaper. It was supplemented with a digital component and social media campaign, expanding the reach of readers monumentally. Mediaplanet identified a gap in the nations understanding of, and communication about, todays skilled workers and tradesmen, which led to the conceptualization of the particular campaign.
"We are honored and excited about this recognition from the industry for our work, and specifically for our Employing America campaign," says Kristiina Kansen, CEO of Mediaplanet North America. "Mediaplanet has been creating content marketing campaigns around the globe for the past 10 years, and were thrilled each and every time were able to successfully help an industry start a conversation with the public. We share this recognition from the Content Marketing Institute with the whole Employing America movement for whom this particular campaign was created, and hope that it not only helps us as we continue to grow as a company, but helps to bring support to the movement as well," Kansen explains.
"We look forward to working with the Content Marketing Institute again in the future, and we look forward to taking part next year in the 2014 Content Marketing Awards!"
"Employing America" focuses on closing the nations skills gap and the gap in public perceptions regarding these fields of work. This campaign addresses the shortage of skilled labor in the United States, and puts a spotlight on the restoration and empowerment of Americas blue-collar work force. A skilled and knowledgeable workforce is necessary in order for America to be economically competitive in the global marketplace.
By collaborating on strategic partnerships with the likes of key industry leaders and corporations such as Mike Rowe, President Bill Clinton, NCCER, SkillsUSA, Ford, GE, and Go Build, Mediaplanet effectively created an industry campaign that encourages the young and the unemployed alike to consider a career path in the "essential arts" by taking an in-depth look into these essential jobs and the people who do them.
The Content Marketing Awards is the largest awards program in North America that recognizes those who create content for organizations. The Awards recognize excellence in critical content marketing elements including editorial, design, and production and management of digital, print, video, audio-video, text, and social media-based content efforts. Entries are judged by an esteemed panel of leading content marketing industry influencers and experts. Mediaplanet was among a list of esteemed winners including The Walt Disney Company, The Globe and Mail, Scholastic, and Dow Jones Content Labs. For more information about the Content Marketing Awards and to view the complete list of winners, visit http://www.contentmarketingawards.com/.
About Mediaplanet
Mediaplanet is the global leader in content marketing publishing, covering a variety of topics in the areas of health, business and finance, lifestyle, technology, corporate social responsibility, industry, and education. We turn consumer interest into action by providing readers with motivational editorial, pairing it with relevant advertisers, and distributing it within top newspapers and online platforms around the world.