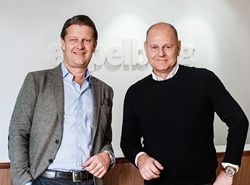 (PRWEB) December 18, 2014
Appelberg, which is being sold by Stampen Media Partner, part of the Stampen Media Group, was founded 25 years ago and is currently one of Swedens largest channel-independent, one-stop-shop providers of content marketing. Based on its strong editorial tradition and high-quality, channel-independent production, the company has established strong and lasting customer relationships with many major Nordic companies, several of which have international operations. In 2013 Appelberg had sales of approximately 75 MSEK and 55 employees.
The acquisition is of great strategic importance for Mediaplanet, which intends to continue driving the market for quality content marketing. Mediaplanet expects the acquisition to generate synergies, particularly through the combination of the companies offers and platforms. This includes Appelbergs digital capacity and qualitative one-stop-shop solutions, which can be implemented within Mediaplanets global presence and office network in 15 countries. Overall, this will enhance the international customer offer and strengthen the companys position in the new media landscape.
"With the acquisition of Appelberg, Mediaplanet is taking the natural next step in developing its position as its customers first choice for content marketing. We were forerunners in this market niche when we founded Mediaplanet in 2002, and our international expansion has been extensive since then. We see the unbelievably rapid growth of the online trend, and we want to be involved in driving this trend in the future as well. Appelberg is at the absolute forefront here, and is also a one-stop-shop provider. I look forward to the expertise Appelberg will bring expertise that will lay the foundation for continued expansion and a competitive offer," says Richard Julin, CEO of Mediaplanet International.
"Appelberg was an early leader with its initiatives in digital development, and we have now developed into one of Swedens largest channel-independent, one-stop-shop providers of content marketing. For many of our customers, printed and online as well as social media complement each other and this is also our view. The digital part of our business has been the fastest growing for a number of years, though, and this is also where we see the emergence of new exciting solutions. It is gratifying that we now have the opportunity to expand our offer to clients outside of Sweden," says Calle Ericsson, CEO of Appelberg.
Appelberg will remain a separate company with its own management and retained brand, and will be a separate profit center within Mediaplanet International.
Combined annual sales total approximately 420 MSEK*. The total number of employees is 380 in 15 countries. Gunnar Str