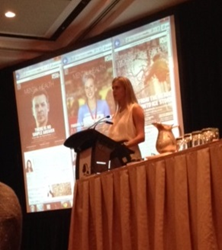 Toronto, Ontario (PRWEB) June 27, 2014
Mediaplanet is honoured to accept the Canadian Mental Health Associations 2014 Media Award. CMHA recognized Mediaplanet as this years recipient because of its ongoing coverage about mental health and addictions issues at the provincial level through three different campaigns: Mental Health December 2013; Safety & Security February 2014; Mental Health March 2014.
Your campaigns have provided in-depth and insightful articles of thousands of Ontarians, CMHA said of Mediaplanets work. In doing so, you are helping the Canadian Mental Health Association (CMHA), Ontario Division achieve its mission: mental health for all.
In partnership with industry leaders, Mediaplanet's campaigns aim to break down the stigma and discrimination associated with mental illness, and to ultimately educate and empower Canadians to take control of their own mental health. The campaigns serve as go-to resource guides for Ontarians, by providing information on the services and support that are available for individual mental health needs. Four key sectors are explored in Mediaplanets publications: child/youth mental health, workplace mental health, mental health in the community and addiction.
On behalf of Mediaplanet and all of the fantastic organizations and individuals who partnered with us on our Mental Health campaigns, thank you for this recognition, said Mediaplanets Sara Pazin. Were happy we were able to provide the industry with a platform to communicate such an important and unfortunately often misunderstood and misrepresented message to the Canadian public. We hope that the information in our campaigns influence readers to change the way they think and speak about mental health and those who deal with its issues directly or indirectly every day.
One in five Canadians will experience a mental health issue in any given year. Unfortunately the stigma associated with mental health and addictions often prevents individuals from seeking and receiving the support they need.
About Mediaplanet

Mediaplanet is the leading independent publisher of content-marketing campaigns covering a variety of topics and industries. We turn consumer interest into action by providing readers with motivational editorial, pairing it with relevant advertisers, and distributing it within top newspapers and online platforms around the world.
For more information about Mediaplanet or its Mental Health campaign contact:

Joshua Nagel

Managing Director

647-861-2554

joshua.nagel(at)mediaplanet(dot)com