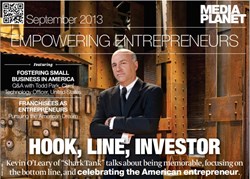 (PRWEB) October 17, 2013
Mediaplanet Publishing announced the launch of Empowering Entrepreneurs, a cross-platform campaign that was distributed in September as a 12-page print publication within the San Francisco Chronicle, and digitally across a network of online platforms, reaching over 2 million readers.
According the U.S. Small Business Administration, small businesses make up over half of new private sector jobs. While the Obama Administration has made a major effort to inspire and accelerate high-growth entrepreneurship throughout the U.S. over the last two years, there is still work to be done and more we can do to foster the entrepreneurial growth that lays the foundation for our economy.
Entrepreneurs still face a variety of challenges today, many of which can be met by resources already available in the industry. It is the goal of Mediaplanets Empowering Entrepreneurs campaign and partner organizations to connect entrepreneurs and small business owners with these resources and establish a network of support in order to bolster their efforts to drive the American economy. To view the full publication, click here.
This campaign aims to inspire and empower entrepreneurs and small business owners in the San Francisco Bay Area. It succeeds in uniting the organizations and companies working at the forefront of the entrepreneurship and Innovation movement, such as: The Kauffman Foundation, Startup California, UP Global, the Small Business Administration, The National Franchise Association, the White House, and more.
A special thank you to our thought leaders and industry experts: Kevin OLeary, Tony Hsieh, Todd Park, Mark Nager, Lesa Mitchell, Mark Quinn, Matthew Brimer, Rocco Fiorentino, and Howard Leonhartdt.
We have a responsibility to look to our own communitys needs and strengths and catalyze action and progress locally, states Marc Nager, President and CEO of UP Global, within the campaigns foreword. Empowering Entrepreneurs will help to provide answers to the most pressing challenges that entrepreneurs face and in turn encourage them in their efforts to create jobs, bridge new markets, and address the worlds most difficult issues of the 21st century.
About Mediaplanet

Mediaplanet is the leading independent publisher of content marketing campaigns covering a variety of topics and industries. We turn consumer interest into action by providing readers with motivational editorial, pairing it with relevant advertisers, and distributing it within top newspapers and online platforms around the world.