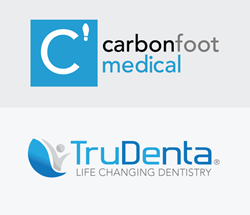 Westport, CT (PRWEB) January 06, 2015
TruDenta, the creator of a revolutionary dental therapy system for chronic headache sufferers, has partnered with CarbonFoot Medical, a boutique medical marketing agency focused on increasing engagement and lowering cost-per-patient-referral.
The TruDenta diagnostic, training, and therapy system for treating dental and jaw imbalances has been rapidly adopted by over 300 dental professionals in 47 states. Now, in partnership with the medical marketing team at CarbonFoot Medical, TruDenta has launched an online patient-focused awareness campaign aimed at increasing public consciousness of the complicated and often undertreated causes of headaches and TMJ (temporomandibular joint) disorders.
CarbonFoot Medical has worked with us to craft every aspect of a successful medical marketing campaign: building a new patient-centered website, inbound marketing strategy, precision-targeted and relevant advertising, and an active social media presence, says John Harris, CEO of Dental Resource Systems, TruDentas parent company.
TruDentas system of digital diagnostics and gentle drug-free physical rehabilitation is aimed at helping patients suffering from chronic headaches, TMJ-related jaw pain, vertigo, and tinnitus all of which can be caused by subtle misalignments in the delicate network of muscles, nerves, and ligaments that run through the neck and jaw. The technology and education that the system is built on enables TruDenta-trained dentists to more accurately diagnose and treat the often-missed imbalances that can cause headaches and other symptoms.
CarbonFoot Medical brings years of medical marketing experience to the TruDenta team, launching a new patient-focused website and digital marketing campaign to raise brand visibility while explaining the many potential causes of chronic headaches and migraines. CarbonFoots exclusive focus on marketing within the medical industry direct to patient populations is helping TruDenta raise awareness, reach more potential patients, and reduce the cost of patient referrals.
About CarbonFoot Medical:

Founded in 2006, CarbonFoot Medical is an LLC based in Westport, Connecticut, providing services that include medical search engine marketing strategy development, paid search advertising programs (PPC), search engine optimization (SEO), social media strategy and social media optimization (SMO), email marketing, website analytics, doctor review management and services that improve website usability, conversions and ultimately, patient satisfaction.
About TruDenta:

TruDenta is a comprehensive medical therapy system designed to resolve headaches, migraines, tinnitus, vertigo, jaw pain, and other symptoms associated with underlying temporomandibular joint (TMJ) imbalances. The TruDenta approach is derived from sports medicine, and uses a series of proprietary diagnostics and gentle therapies utilizing FDA-cleared technologies to pinpoint and resolve the root causes of dental imbalances. Released during the Summer of 2011, TruDenta is now in use at dental offices in 47 states and Canada.