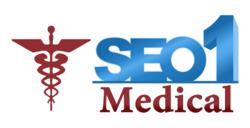 Dallas, Texas (PRWEB) April 16, 2013
Dallas based SEO 1 Medical, a medical marketing company specializing in SEO has published a new article highlighting the shift in medical marketing from a volume based approach to a value based approach. Given the current economic climate, large healthcare practices will have to drastically cut their marketing budgets thus creating room for small and individual practitioners to compete as 30 million new Americans get coverage.
According to Rodney Brooke of SEO 1 Medical, Internet strategies and effective use of social media platforms will decide which healthcare professional or practice attains success and which does not. In this new space the key to success is talent. He further stated, Big budgets will no longer be an option. Size will not determine success. Capacity to build relationships and emotional intelligence will trump technical talent or expertise in a field of medicine. Those with exceptional judgment, great intuition, and capacity to segment and target prospects will build successful practices.
Mr. Brooke does not dismiss the potential available to large practices, he adds They will have to develop a capacity to engage large masses of people and provide preventive and intervening services with seamless precision. Retaining such large customer base will call for special skills in public relations and social media management.
The new healthcare ecosystem is particularly suited for small, medium, and individual practitioners, but doctors and physicians will have to discard old dogmas and accept new marketing challenges. They will have to meet prospects on their turf, speak their language, and communicate via media of their choice. Only those medical practitioners that are willing to change and ready to accept the paradigm shift will meet their professional and business objectives, says Mr. Brooke.
Mr. Rodney Brooke feels SEO 1 Medical, is uniquely positioned with its expertise and newly launched pay per performance marketing to help doctors and physicians connect, communicate, and target prospects with seamless precision.
About SEO 1 Medical

SEO 1 Medical is a specialized Internet marketing firm that operates in Dallas, Texas. It offers a variety of Internet marketing solutions to the health care industry. All medical SEO packages come with guaranteed results. Its team has more than 30 years of combined experiences in organic SEO, article marketing, pay per click, Google optimization, press release distribution, and medical marketing consulting for doctors and physicians.
Contact

Rodney Brooke

Tel: 888-263-9434

http://seo1-medical.com