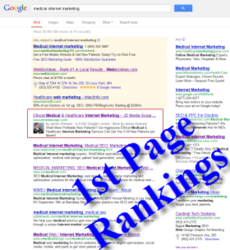 Seattle, WA (PRWEB) April 23, 2013
If most medical firms checked on their websites Google rank, they might be surprised.
We find that most medical practices with a web presence are not on Page 1 or even Page 2 of the major search engines results. That means they might as well not even exist, said Medical Marketing Expert James Dreesen. More than 90 percent of search engine users dont make it past Page 1 of the results. Thats a lot of potential patients who will never know you exist.
Mr. Dreesen has just launched a no-results, no-pay medical SEO guarantee.
http://www.getnewpatientsinc.com/medical-seo/

Yes. I guarantee to get your web page on the first page of the search engine results or you dont pay. Until I deliver on my promise, you wont have to give me any money, he said. I am that confident in my SEO services.
The problem with website rankings is that the search engines are regularly changing the way they rank pages. It takes a dedicated and trained person to stay on top of these changes.
You need to be taking care of your patients. You dont have the time or resources to devote to studying the new search engine ranking factors, he said. Leave that to me. My SEO team consists of the best in the search engine optimization (SEO) marketing industry and we simply deliver results.
His firm achieves high ranks for clients by understanding the way search engines works.
Backlinks are still important, he said. However, they need to be good backlinks and not just a bunch of spam. Search engineers are getting wise to software generated links. We work to generate high quality content to attract links from other website.
"Content is important," Mr. Dreesen said. "What a website says and how it says that is important. Simple keyword stuffing no longer works. Now, he said, websites need solid content written by people with very good understanding of American English."
The website code is also critical to a ranking a website. Mr. Dreesen can explain what coding elements are important to syncing with the search engines. His firm can also change website code quickly so that a search engine will read and rank it.
About JD Media Surge, LLC:

Founded by James Dreesen to provide medical SEO services to medical practices and small business who want more customers, clients, and new patients! James is a Google Analytics Certified professional who specializes in search engine optimization. You are encouraged to follow the company's Facebook page or Twitter account.