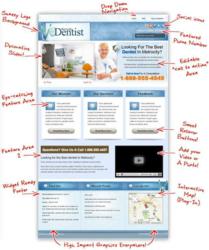 Boston, MA (PRWEB) May 06, 2013
A webpage for a medical practice of any kind has three basic requirements to be able to convert more visitors into new patients.
1) It must be new patient friendly.
2) It must be mobile device friendly.
3) It has to rank high in search engine results.
Certified Medical Marketing consultant James Dreesen designs and develops websites for medical practices who want to meet those three requirements with his medical practice website design services.
http://www.JDMediaSurge.com/Medical-Website-Design/
Weve helped all sorts of medical practices: pediatrician, dental, plastic and cosmetic surgeon, chiropractors, and many others, he said. We have a proven track record of delivering results and helping our clients get more new patient phone calls from their websites.
He explained the first step is to make sure the site gives new patients the information they want and need.
They need to know what kind of doctor you are and what specialty services are being offered. Then, they need to know where and how to make an appointment, he said. Youve got about three seconds to give the average web page viewer that information. If you can do that you can convert 100% more visitors into new patients. If you cant give them that information in three seconds, they will move on to the next web page which most likely will be your competitor.
According to ABI Research's new study, mobile traffic is surging and has lead to a growing need for and webpages needing to be visible on small screens.
That means eye-catching and simple. Give them the highlights. If they want more information, give them links to click for that stuff. If they start looking through your website, and can easily contact your practice more visitors will turn into new patients phone calls, he said.
Ranking high in the search engines is also important because more than 90 percent of people using a search engine never get past page one of the results.
If youre not on page one, you might as well not even exist, Mr. Dreesen said. Considering how often Google changes the way it ranks pages, staying on top Google requires a dedicated effort. Most doctors offices dont have the resources to hire a full time marketing manager let alone a search engine optimization specialist. Thats where my company comes in; we do the marketing work to attract more new patients and let you take care of patients and clients.
About JD Media Surge, LLC:

Founded by James Dreesen to provide medical practice marketing services to medical practices who want more new patients! James is a Google Analytics Certified professional who specializes in optimizing websites to rank high in the search engines. You can follow James and JD Media Surge, LLC on Linkedin or on Google+.