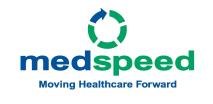 Elmhurst, IL (PRWEB) February 19, 2013
MedSpeed LLC, an HFMA peer-reviewed partner that strengthens supply chain and overall business operations through centralized healthcare transportation networks, today announced that it is bolstering its management team and offering with the appointment of Chris Calhoun as vice president of information technology.
Mr. Calhoun will lead the companys growing technology team to expand and enhance MedSpeeds proprietary technology platform. His new role will include a core focus on product innovation, scalability and the continued development of repeatable, efficient processes.
Technology plays an essential role in providing high quality, efficient service and generating the information needed to make smart, informed business decisions, said Bonni Kaplan, MedSpeeds vice president of marketing. It is crucial to our customers that our technology remains state-of-the-art and reliable and ensures accurate chain of custody to enhance the patient experience. Chris is highly knowledgeable about the healthcare industry, understands the challenges the industry faces today and knows how to successfully overcome these challenges.
Mr. Calhoun has more than 15 years of information technology experience in applications development and engineering, project management, product development, infrastructure and leadership. Most recently, he served as vice president and chief information officer for Pharos Innovations, a technology driven healthcare services provider, where he oversaw the companys internal infrastructure and led the development of the companys new technology platform. Prior to Pharos, Mr. Calhoun held technology leadership positions with McKesson and HealthCom Partners. He received a BS in Electrical Engineering from the University of Dayton.
About MedSpeed

Every patient interaction, from a routine clinic visit to an urgent blood transfusion, relies in some way on the same-day pickup and delivery of a specimen, pharmaceutical, radiology film, blood product, medical record or supply. MedSpeed is an ISO-certified, technology-enhanced healthcare transportation solutions provider that strengthens supply chain and overall business operations through centralized transportation networks. MedSpeed has also been granted the "Peer Reviewed by HFMA