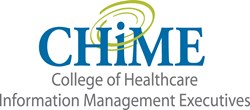 Plano, TX (PRWEB) September 24, 2013
MedSys Group today announced that its President, Steven Heck, is among 33 healthcare IT industry executives speaking at the CHIME13 Fall CIO Forum. The premier event for healthcare chief information officers and leaders of the vendor community will take place at the Westin Kierland Resort in Scottsdale, Ariz., from October 8-11, 2013.
Heck will be moderating the panel discussion, Surviving the Downturn. The distinguished group of healthcare representatives making up the panel include: Joan Hicks, VP and CIO at UABHS, Jon Morris, MD, Sr. VP and CIO at WellStar, and Edward Marx, Sr. VP and CIO at THR. The discussion will take place on October 10th from 11:15 12:00.
During the presentation, the panel will take an in-depth look at how declining revenues and increasing IT expenses can be more effectively managed. We have finished only a fraction of MU requirements and provider economics are declining rapidly, Heck said. Last year, the provider sector was short of qualified resources. This year, it is not uncommon to see go lives occurring in parallel to IT staff reductions.
CHIME President and CEO Russell P. Branzell FCHIME, CHCIO is delighted to have Heck and the rest of the panel participate. The CHIME organization is very fortunate to have healthcares most innovative and renowned CIOs and industry professionals from across the country converging in Scottsdale to educate and reinvigorate their peers, he said.

For the past 20 years, CHIME has worked diligently to advance the role of healthcare CIO and advocate the effective use of information technology to improve healthcare in the communities they serve. The success of the track session presentations to the Fall CIO Forum program has been overwhelming and allows key stakeholders of the healthcare IT industry to hear real-world instances and case studies on strategy and leadership, performance improvement, care transformation, and emerging issues.
In addition to Hecks session, there will be keynote presentations from industry thought-leaders and plenary presentations from government agency representatives. For a full list of speakers, panels and topics, visit http://www.cio-chime.org/chime13.