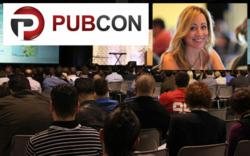 Austin, TX (PRWEB) February 06, 2013
Pubcon, the premier social media and optimization conference, is happy to announce that Digitas senior vice president and search marketing practice lead, and longtime attendee favorite Melanie Mitchell will be presenting a keynote address during Pubcon Regional Austin 2013 on Thursday, February 21 at the AT&T Conference Center on the University of Texas campus. Mitchell has been at the forefront of search engine marketing for over 13 years, and was vice president of search engine optimization (SEO) and search engine marketing (SEM) at AOL.
Mitchell considers Pubcon a gathering of many key industry players. There are some of the smartest and most interesting people in search marketing, social media and content development here right now, Mitchell said during a recent Pubcon conference, and for Pubcon Regional Austin 2013 she will be presenting the events major keynote.
Registration is now open for Pubcon Regional Austin 2013, which offers three simultaneous session tracks covering the latest local social media and search-related research, breakfast and lunch, and Mitchells keynote, all led by Austin area speakers.
Pubcon Regional Austin 2013 is a prime opportunity for area attendees and local marketing agencies to learn from top Pubcon speakers at a dynamic event with tracks dedicated to social media, SEO, and SEM, supported by local search and social media groups. The AT&T Conference Center conveniently offers hotel accommodations on-site, making Pubcon Regional Austin 2013 an easy event to attend.
Learn more and register at http://www.pubcon.com
About Pubcon
Pubcon is a multi-track educational conference hosted by Pubcon Inc. Pubcon, supported by the industrys leading businesses, speakers, exhibitors, and sponsors involved in social media, Internet marketing, search engines, and online advertising, offers an in-depth look at the future of technology presented by the worlds top speakers in provocative cutting-edge sessions.
For more information about the conference, contact Brett Tabke at 512-231-8107 or brett at pubcon (dot) com
For more details about sponsorship and exhibition opportunities, contact Strategic Marketing Director Joseph Morin at 512-231-8107 ext 104 or joe at pubcon (dot) com