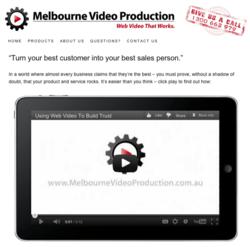 Melbourne, Victoria (PRWEB) December 05, 2012
A new web video has just been released by Melbourne Video Production for their client Simply Headsets' growing online FAQ series. The video specifically deals with the confusion associated with selecting the right headset adapter and aims to increase buyer conversion. Simply Headsets wanted to clarify how to choose between various corded headset adaptors, says David Jenyns, web video expert and owner of Melbourne Video Production, So, we produced and launched this latest online video, which will bolster their chances of turning browsers into buyers.
When a product is small, or has specific technical requirements, or is a combination of both, online retailers can have a difficult time conveying those little, yet important, details to their potential buyers. Many consumers won't bother to contact a business for clarification, and that lack of understanding can send them running, and in the wrong direction.
David Jenyns, Melbourne Video Production owner and web video expert, claims No matter what product or service youre selling, your clients will have questions. And for every client who asks a question, theres probably 10 who dont.
Melbourne Video Production assert their packaged Time Saver web videos are the easiest, and most effective, way to cut through this kind of end-user confusion.
David states that recording a series of frequently asked questions (FAQ), which he coins Time Savers, is the best way to answer prospective customers questions, well before ever hearing from them. He says after watching a FAQ video, All thats left for them to do is buy. Thats truly smart marketing.
Davids video production team recently launched a "Time Saver" video for their client Simply Headsets, We decided to use this format so that Pete Williams, the owner of Simply Headsets, could easily explain how to select the correct headset adaptor cable.
The Time Saver web video package gets a company representative, or hired actor, to answer their top 5 frequently asked questions on camera, then Melbourne Video Production do the rest. Like this latest Simply Headset web video release, after we record the answers from the client, we edit, grade, encode, upload, optimise and even embed the video to the businesss website.
Web video is a sure way to knock down potential hurdles, continues David, And is the most effective method an online retailer can use to increase their buying conversion rate.
David also notes that Melbourne Video Production offers three web video packages, including the "Time Saver" one, as well as custom video and studio hire options.
To view the recently launched Simply Headsets FAQ video, click here. http://youtu.be/mEVyiV87sho or to learn more about Melbourne Video Productions "Time Saver" videos, click here.
About Melbourne Video Production
Melbourne Video Production is a division of MelbourneSEOServices.com, a full service search engine optimization (SEO) consultancy, based in Australia, but with a worldwide client base.

Melbourne Video Production has the unique ability to combine their web video expertise with strategic SEO practices from Melbourne SEO.
Director, David Jenyns, has, over several years, built a team of experts who are niche experts to support the business, and who share his ethos for ethical, professional internet marketing and web video.