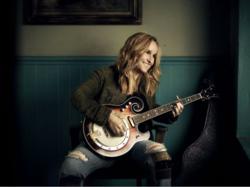 McLean, VA (PRWEB) April 11, 2013
Alliance for Women in Media Foundation is pleased to announce that singer-songwriter Melissa Etheridge will perform at the 38th Annual Gracie Awards Gala on May 21, 2013, at the Beverly Hilton Hotel in Beverly Hills, CA. Etheridge will also accept her Gracie Award for Outstanding Talk Show – Entertainment/Information for The Melissa Etheridge Radio Show.
The Gracie Awards (also known as the Gracies) recognize exemplary programming created for women, by women and about women in all facets of media, including radio, television, cable and new media. The awards program also encourages the realistic and multi-faceted portrayal of women in entertainment, news, features and other programs.
I have won Grammys and an Oscar, but there is something especially meaningful about being recognized with a Gracie, said Etheridge. I love radio, and its important to me to bring the voices of women to our audiences, as they share their respective truths about life, love and familyand as I share the same with them. Its also a great pleasure to provide a forum where we can connect with each other about the music that moves us. Im honored that people are responding to the show across the country and I thank the AWM Foundation for this award.
The Alliance for Women in Media Foundation is thrilled to welcome Melissa Etheridge to the Gracies, said Kay Olin, AWMF Chair. Our organization has a strong presence in radio, so its particularly exciting to see how Melissa has used her show as a new way to connect with her enormous and dedicated fanbase. We look forward to honoring Melissa and enjoying her performance at the Gracies Award Gala.
The Melissa Etheridge Radio Show is a nationally syndicated five-hour daily program that features Melissa Etheridge, the talented and beloved two-time Grammy-winning rock star and Oscar winner, as she connects with audiences across the U.S. about life, family, and music. Listeners engage with Melissa on-air and online in show segments including Ask M.E. Anything and The Music That Moves You. Melissas radio listeners also hear fun, behind-the-scene stories and firsthand accounts from Melissa about people she knows that listeners care aboutincluding Bruce Springsteen, Steve Jobs, Bono, Steve Wonder, Bill Clinton, and countless others. The show is produced and syndicated by Benztown Radio Networks.
The Gracies are presented by the Alliance for Women in Media Foundation, the philanthropic arm of the Alliance for Women in Media that supports educational programs, charitable activities, public service campaigns and scholarships to benefit the public, the electronic media and allied fields. The Gracie Awards, established in 1975, honors programming and individuals of the highest caliber in all facets of radio, television, cable and web-based media, including news, drama, comedy, commercials, public service, documentary and sports.
The event is made possible through the generous support of the following sponsors: Automotive Sponsor: Ford Motor Company and Hair Care Sponsor: Sexy Hair. Table Sponsors: Arbitron, Charlie and Moll Anderson Family Foundation, CNN, JSW Productions, Katz Media Group, Inc., National Association of Broadcasters/NABEF, National Cable & Telecommunications Association, NBC News, ReelzChannel and Style Network; Sponsored tables are available by contacting Gracies Headquarters at 703-506-3290.
For more information about the 2013 Gracies, please visit http://www.thegracies.org. For the most up-to-date, insider information, follow the Gracie Awards on Twitter @thegracies.
CREDENTIALED PRESS: For press information in regard to covering the red carpet and the event, please contact ESP Public Relations at 310-827-9727.

_______
About the Alliance for Women in Media (AWM): The Alliance for Women in Media advances the influence and impact of women in all forms of media. AWM is a diverse community whether type of media, job or global location that facilitates industry-wide collaboration, education, and innovation. Established in 1961 as American Women in Radio & Television (AWRT), AWM is the longest-established professional association dedicated to advancing women in media and entertainment. AWM harnesses the promise, passion and power of women in all forms of media to empower career development, engage in thought leadership, and drive positive change for our industry and societal progress.
About the Alliance for Women in Media Foundation: The Alliance for Women in Media Foundation (formerly known as The Foundation of American Women in Radio & Television) supports and promotes educational programs, charitable activities, public service campaigns and scholarships to benefit the public, the electronic media and allied fields. The Alliance for Women in Media Foundation has created partnerships and joint-initiatives with the National Middle School Association, the Emma Bowen Foundation, the American Red Cross and other organizations that are philosophically aligned with the mission of the Foundation. The Foundation also supports Empowering America