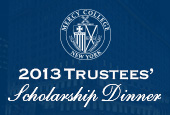 New York, NY (PRWEB) May 01, 2013
Mercy College will honor five of New Yorks most influential state and business leaders at the Colleges 32nd annual Trustees Scholarship Dinner on May 9. The event will take place at The Plaza Hotel in New York City at 7:00 P.M.
The College will recognize Douglas D. Gollan, Co-Founder and Group President of Elite Traveler Media Group; Michael Robinson, Chief Executive Officer and President of Broadview Networks; New York State Senator Jeffrey D. Klein, Majority Coalition Leader; and Lifetime Achievement Award Recipients Edward and Dorothy Oberhaus, for serving as inspirational examples of academic and personal success.
Mercy College is honored to recognize the outstanding leadership and innovation that has propelled this years honorees to become shining examples of inspiration for our students, said Mercy College President Dr. Kimberly R. Cline. The scholarship support provided to the College through the Trustees Dinner helps to ensure that Mercy students are ready for successful careers, advanced education and productive lives.
Past honorees have included Duncan Niederauer, CEO of the New York Stock Exchange; Gary Knell, President of Sesame Street Workshop; Alex Ferrari, EVP and COO of MTV; Dr. Charlotte Frank, McGraw Hill; Joel Klein, former NYC Schools Chancellor; Frank Sadlier Dinger, Chairman of the Board, and William Sadlier Dinger, President of the Board, for William H. Sadlier, Inc.; among others.
Attended by more than 300 people, the annual Trustees Scholarship Dinner is Mercy Colleges largest fundraising event of the year. Tickets include a cocktail reception and seated dinner and pricing begins at $ 700. All proceeds help to fund student scholarships that would not be available otherwise.
To purchase tickets, please contact the Office of Institutional Advancement at Mercy College at (914)674-7640 or visit http://www.mercy.edu/alumni-friends.
About Mercy College
Founded in 1950, Mercy College is a private, not-for-profit higher education institution that offers more than 90 undergraduate and graduate programs within five prestigious schools: Business, Education, Health and Natural Sciences, Social and Behavioral Sciences, and Liberal Arts. Mercy College offers an engaging and personalized learning experience that includes the Colleges revolutionary Personalized Achievement Contract (PACT) program. The Mercy College PACT is the first program of its kind and now serves as a nationally recognized model for mentoring. http://www.mercy.edu/ 877-MERCY-GO.