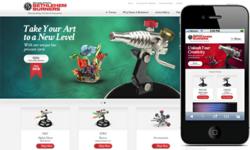 Bethlehem, PA (PRWEB) October 03, 2012
Metter Interactive, an interactive agency specializing in Webcentric marketing, advertising, and technology, today announced the agency has won the Manufacturing Standard of Excellence award in the 2012 Web Marketing Associations WebAward competition. The Lehigh Valley-based interactive agency received the award for their integrated marketing program carried out for long-time client, Bethlehem Burners.
Winning awards is not always the most important, said David Snyder, vice president of user experience and design, but when you can deliver an award winning program with measurable results, its gratifying. The Manufacturing Standard of Excellence award was presented for Metter Interactives integrated marketing program, which included a complete ecommerce website redesign and mobile website implementation.
Metter Interactive has been lucky to work with Bethlehem Burners, said Snyder, They gave us open creative direction and flexibility which allowed us to stretch our legs a bit on this project. The website redesign aimed to emphasize the sites e-commerce capabilities and increase the appeal of their utilitarian glass working torches among the artist community who use them. The mobile website was included in the marketing program after web analytics revealed 20% of users were accessing the website from a mobile device. The mobile platform included a separate design and user experience from the main ecommerce website.
Websites entered in the WMA WebAward competition are judged by a panel of internet marketing professionals and experts on a 10 point scale on a range of criteria including design, innovation, content, technology, interactivity, copywriting, and ease of use. Metter Interactive scored above industry and WebAward averages in five of the seven categories, scoring highest in the content and ease of use criteria. Judges of the website commented on the successful layout of the site and easy navigation for users. Also recognized by the judges was Metters graphically creative take on the products, stating, lovely visuals make something non-creative feel very sci-fi and interesting.
The Web Marketing Associations WebAward Competition is the longest running website competition and features categories for 96 industries. The Web Marketing Association consists of online advertising, public relations, and internet marketing professionals, as well as top website design specialists. The WebAward competition was created 16 years ago with a goal of recognizing the fields best work and setting a standard of excellence among designers and developers.
To learn more about Metter Interactives award winning work for Bethlehem Burners, visit http://www.metterinteractive.com/bethburners . To find out more about Metter Interactive, visit http://www.metterinteractive.com or call 610-419-4510.
About Metter Interactive

It's what makes us different. Strategy, marketing, creative, and technology rooted in our WebCentric approach helps our clients build stronger brands, increase online visibility, and drive measureable results.
A growing interactive marketing agency in Bethlehem, PA, Metter Interactive is located between Philadelphia and New York and services clients in business-to-business, technology, and industrial markets. We generate leads and ROI for our clients through development and delivery of branding, content, usability, design, and digital marketing strategies that put them in front of buyers at the right time with the right message.
About Web Marketing Association

Founded in 1997, the WMA is an all volunteer organization of marketing, advertising, internet, and web development professional. The organization led by founding member William Rice, 20-year financial services marketing veteran, seeks to set a standard of excellence among website designers and developers and reward outstanding work in the industry through annual WebAward competitions.