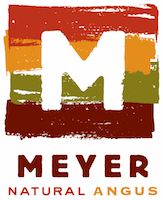 Loveland, CO (PRWEB) September 25, 2012
Meyer Natural Angus, the leading producer of naturally-raised premium steak and ground beef products, is partnering with the Green Bay Packers for the second consecutive year. Meyer Natural Angus will continue to provide premium beef to the Packers for team meals and special events for the organization throughout the 2012-2013 season.
Fans visiting the teams website http://www.packers.com, the most visited website in the NFL, will be able to connect with Meyers website through advertising. While there, they can learn more about the companys natural processes and purchase its premium beef.
Both Meyer Natural Angus and the Packers are known for their dedication to achieving success and long-standing history of using the highest standards to produce award-winning products both on the table and on the field, said Chris Anderson, director of marketing for Meyer Natural Foods. The partnership with the Packers is not only a great way for us to reach potential customers across the country but allows this legendary team to add high quality, natural beef to their team dietary plan.
Meyer Natural Angus USDA Choice and Prime cuts of beef are the choice for professional chefs and restaurants across the country. Bob Meyer, the companys founder, says the rich flavor profile of the companys beef is the direct result of the 100 percent natural processes used to raise cattle on his 40,000 acre Montana ranch and on partner ranches across the Midwest and West.
The cattle are fed a vegetarian diet of grasses and grains, and their all-natural diet never includes growth hormones or antibiotics. Meyer also verifies the origins of its cattle and ensures they are born, raised, fed and processed solely in the United States.
Meyer is the only major beef brand that has earned both the Certified Humane designation for its animal husbandry processes and the American Culinary Federations Seal of Approval for superior quality.
To learn more, visit http://www.meyernaturalangus.com.
###