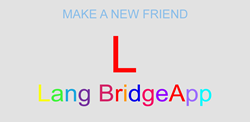 Miami, FL (PRWEB) March 31, 2015
Miami startup tech company, Lang BridgeApp Inc., launches social networking messenger with real-time automatic language translation and its online store, 'Lang BridgeApp Store.' The project is designed to catapult artists' first week sales and make fans millionaires. Up until now, entertainers and fans of different languages were unable to have a direct 'fluent' communication stream; moreover, the opportunity to get rich together. With this new platform, the company is looking to outdo its competitors.
"To speak about what has never been done, gives the world the option to doubt; to accomplish what has never been done, is to gain their respect," said Terry Moss, Founder and CEO of Lang BridgeApp Inc. "Lang BridgeApp has the highest form of consumers attraction; fans are going to love the experience of getting rich with their favorite artists: our competitors do not provide this well deserved opportunity for them."
Today, the digital music industry is unstable and is 'unclear' about the future for music consumption: Music streaming companies have yet to make a profit in the unsettled market, nor found a solution to fairly compensate artists for their streams.
Lang BridgeApp features video and picture messaging, emojis, and 'Huddle Messaging' which allow users to chat in groups while languages translate in real-time. Also, it features a banner-link that leads users to the Lang BridgeApp Store to make purchases without exiting the app. If successful, the company would be the first of its kind to combine a distinctive revenue model and social networking platform all in one.
Lang BridgeApp is now available Android on the Google Play Store and is set to release its iOS version in early May.
Media Contact:

Gregory Williams

(786) 531-7937

info(at)thelangbridgeapp(dot)com

http://www.thelangbridgeapp.com/