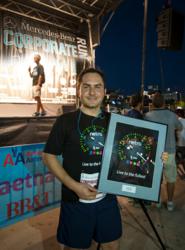 Miami, Florida (PRWEB) April 30, 2013
Miami web design firm NetroStar, a digital and creative agency based out of Miami, Florida, recently won the award for Most Original Design for a T-Shirt at the Mercedes-Benz Corporate Run. NetroStar prides itself on its originality and creativity with their web designs, so being recognized at such a noteworthy and popular event was especially gratifying for the company.
The winning design was created by NetroStar's in-house design team, and the t-shirt featured a speedometer with the tag line Live to the fullest. It was the favorite design of the judges for 2013, and NetroStar is honored to be recognized. The Mercedes-Benz corporate run was especially important in the wake of the bombings at the Boston Marathon, and NetroStar CEO Marcin Ladowski says that "NetroStar is proud to stand, and run, in support of the victims of the Boston Marathon bombing, as well as the fellow-runners who competed."
NetroStar, which has its web design Miami headquarters in Miami, Florida, provides a variety of online services including web design, website development, online marketing, search engine optimization, pay per click campaigns, social media marketing and online business development.
NetroStar recently launched its latest product, NetroExpress designs, which are ready-made semi-customizable designs launched on NetroStar's proprietary Content Management System, NetroCMS. With NetroCMS, webmasters can easily and seamlessly change content to their website, create new pages, change the format of pages, and add dozens of widgets to any location of their website without the need for assistance from a technical expert.
About NetroStar
Netrostar is a results-driven digital and creative agency based in Miami serving clients in 40 countries around the world. NetroStar is a dedicated team of experienced digital and creative talent, fluent in English, Spanish, Polish, and Portuguese.
NetroStar delivers on time and on budget to a range of clients, from large global corporations and national brands, to smaller start-ups and young entrepreneurs. From concept to product launch, NetroStar strives to be a partner to their clients at every step, including testing, quality assurance, and long-term support.
Media inquiries can be directed to NetroStar CEO Marcin Ladowski at (305) 577-9904.