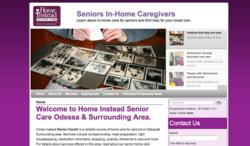 Tampa, Florida (PRWEB) March 31, 2013
Michael Huth, CEO of Image Forward is excited to showcase the new franchise blogging platform at the annual Home Instead Senior Care Convention later this month in Omaha Nebraska. The algorithms used by search engines are constantly changing. The means a company used to get on the first position of a search engine result are far different today than they were just two years ago. Having original point of origin content is crucially important, basically without properly utilizing a corporate blog a companies internet marketing strategy has a big hole in it. The corporate blogging platform Image Forward offers is custom built to meet the needs of a franchise based business, where the look of the blog site has to meet corporate approval, the coding has to be customized to meet third party and proprietary plug ins and it has to be easy to update. Glen Barnhart, lead developer of Image Forward states, We chose wordpress because it has a solid PHP backbone, and it was a popular request among our franchise owners. After developing a series of custom themes, proprietary Image Forward database driven tools were tied in to help guarantee the accuracy and uniqueness of the content. This process unlike like the automated back ups, is completely humanized. But really thats what blogs are all about, a tool designed to get people into the web without technological barriers.
Image Forwards franchise blogging platform is a secure customizable tool that is designed to look good and make it as easy and affordable as possible for any of our franchise clients to step prominently into the social area with a blog they are proud of, states Michael Huth.
About Image Forward

Image Forward, a digital marketing agency, helps our clients to drive revenue by leveraging and building audience engagement through the use of proprietary tools including a high recognition local SEO directory system (if-Places) containing over 105,000 local business listings & automated social content distribution system (if-Social). The company provides turnkey Internet Presence Management Solutions to improve brand visibility by establishing a local search presence & publishing high value content to social portals.