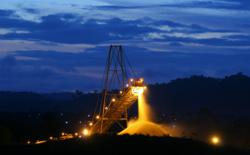 Johannesburg, South Africa (PRWeb) (PRWEB) September 19, 2012
Leading software and solutions provider, MICROMINE, is pleased to announce the successful implementation of Pitram Optimum at Gold Fields Damang gold mine in Ghana, Africa.
Pitram, MICROMINEs mine control and management reporting solution, will help the operation increase production, reduce costs, and improve safety and business intelligence capabilities.
Located in Southwest Ghana, Damang is an open pit gold mine. Gold Fields processes 5.1 Mt of gold per annum from a blend of approximately 37% oxide ore and 63% fresh ore. The current planned depth of the Damang pit is 300m. It is estimated that the current mineral reserve will be depleted by 2019, although exploration work indicates that the life of mine could be extended if additional projects are approved.
Gold Fields FMS and Projects Supervisor, Barrett Blaauw, comments, Pitram was selected because of its ability to integrate the production planning and optimization process into the real-time environment. The software went live in February 2012. This is the first time Gold Fields has worked with MICROMINE. MICROMINE has provided us with good after-sales services and technical support, Blaauw adds.
The biggest hurdle for us has been convincing operators in the field to utilise the new software to their advantage. Fortunately, an increasing number of miners in Africa are experiencing the benefits that automation solutions such as Pitram provides.
Blaauw concludes that he is optimistic about the African mining sectors future and that Both of our Ghanaian mines have ambitious expansion plans which could extend their lives. A strong fleet is essential to our current and future operations. Damang currently has 22 automated vehicles, and using Pitram Optimum, we plan to automate a further 12 vehicles within the next few months.
Pitram Optimum is one of four solutions that comprise the Pitram product suite. The Pitram suite provides a unique upgrade path from the entry level Pitram Report solution, through to the fully automated Pitram Optimum Solution.
MICROMINE South Africa General Manager, Marc Ramsay, comments, Because Pitram Optimum integrates production planning and optimisation, Damang will see a significant improvement in the execution of mine plans and the maximization of asset utilization and efficiency.
Damang management will be able to compare actual findings against plans, and have the ability to correct deviations from plans. Also, through intuitive equipment allocation, Damang can optimize production, reduce wait time and execute shift plans according to design or blending requirements. This will allow business targets to be achieved at the lowest possible cost, Ramsay concludes.
About MICROMINE

With over 12,000 clients in more than 90 countries, MICROMINE is the leading provider of intuitive software solutions for the entire mining process. MICROMINE understands the software and consultancy needs of exploration and mining operations around the world. Located in 20 of the worlds major mineral producing capitals, our team is close to your operation. This means MICROMINE can provide local support and services in your language and time zone. MICROMINEs intuitive solutions are delivered by a team of specialists who understand the software and how it can be integrated into an operation for maximum results.