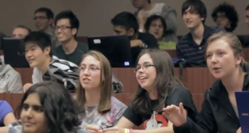 Boulder, Colorado (PRWEB) January 21, 2013
Microsoft Corp. announced today that all students who participate in the 2013 International Collegiate Programming Championship will receive a free MSDN subscription. Each entrant will win copies of Windows 8, Windows Server, Toolkits, Software Development Kits, Driver Development Kits, Microsoft E-Learning course collections, priority support and more.
The donation is the second Microsoft sponsorship of the championship, also known as the Windward Code Wars. Earlier Microsoft announced it would award Microsoft Surface Tablets to each student on the top team and Kinect Bundles to each student on the second and third place teams. Code Wars is a day-long game that tests the programming knowledge, innovative thinking and teamwork of computer science college students.
"We run the contest because its fun for the students, and these prizes make it even more fun," said David Thielen, founder and CTO of Windward, the creator of Code Wars. "Awarding MSDN subscriptions means every participant will get some of the most sought-after developer software in the world."
Schools that have signed on to participate in this year's contest include the College of William and Mary, Boston University, Colorado School of Mines, Columbia University, Georgia Institute of Technology, Harvey Mudd College, Hendrix College, Indian Institute of Technology (Delhi), Michigan Tech, Penn State, Purdue University, Saint Petersburg (Russia) State University, United States Military Academy, University of Central Florida, University of Colorado, University of Maryland, University of Pennsylvania, University of Toronto, University of Wisconsin University of California – San Diego.
For more information on the 2013 International Collegiate Programming Championship, which takes place January 26, please visit http://windward.net/community_codewars.php.
About Microsoft

Founded in 1975, Microsoft is the worldwide leader in software, services and solutions that help people and businesses realize their full potential.
About Windward

Windward a kickass reporting and document generation software company. For more info, visit http://www.windward.net/.