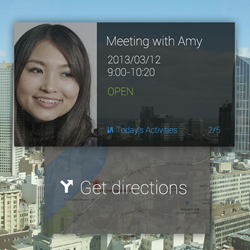 Atlanta, Georgia (PRWEB) March 04, 2014
It looks as if Google Glass is on its way to becoming a great consumer gadget. Yet from a business point of view, it offers opportunities that are not yet fully explored; CRM being no exception.
Resco announced today at Microsofts Convergence 2014 the compatibility of its Mobile CRM client for Dynamics CRM with Google Glass. Thanks to this new mobile solution, we might soon witness employees using Google Glass on a daily basis. A technician called in for equipment installation can use both of his hands to get the job done while having product manuals or a colleague to guide him through the process available on Glass. A sales rep can receive instantaneous updates on scheduled meetings. Companies could offer effective, remote customer support.
Imagine a customer on an IT support line. Instead of a long process of asking a series of questions for troubleshooting, support employee can simply ask the customer to start a live stream. The issue can be so resolved in a fraction of a time previously needed and the customer is less likely to get frustrated in the process.
Another practical use of wearable devices emerges for retail companies. They can build consumer applications to enhance customers experience. Shoppers could see product details as they glance at the shelves at a store. Businesses can so promote products when customers are most inclined to purchase.
The limited availability and a price of $ 1,500 are for now a clear show stopper for Google Glass. As the price goes down an inevitable progress businesses are expected to experiment with the possibilities this device offers. Once that happens, commands such as "O.K., Glass. Navigate me to next meeting", "Show me the installation tutorial" or "See related products" might just become the norm.
About Resco

Resco, founded in 1999, is the creator of the market favorite Mobile CRM for Dynamics CRM. The app which gives users around-the-clock access to their CRM data from anywhere comes with a full offline mode, interactive maps, support of custom entities & many more benefits that make it the product people love to use.
For more information, visit: http://www.resco.net/MobileCRM/.