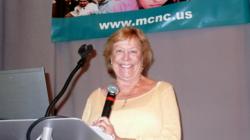 New York, New York (PRWEB) September 04, 2012
Following the growing expansion and success of Middle College National Consortiums Student Leadership Initiative, MCNC is undertaking an effort to produce a thirty minute film that traces the process and transformation that occurs when students are guided in a rigorous leadership training program. Walk With the Dreamers will begin production this September and be screened at the culmination of this years MCNC Student Leadership Initiative Conference in Columbus, Ohio, on April 16, 2013.
Directed by Terry Born, coordinator of the MCNC Student Leadership Initiative program, and Megan Lee, Hunter College student and SLI Assistant Administrator, the film grew out of discussions with teachers and students at the SLI Leadership Conference in Los Angeles in February. Over a period of seven years the initiative has developed a highly sophisticated online student voice, using Facebook, Twitter, YouTube and WordPress blogs. The curriculum has evolved to require five specific tasks that align with David Conleys College Readiness strategies. Each year more host colleges offer students college credit for their involvement.
Walk With the Dreamers will be a true collaboration of skills and talent with twelve MCNC schools contributing footage that traces the process from student selection to project presentations to the five day conference itself. It will be told through the voices of five students from diverse locations, backgrounds and experiences; differing in age, attitudes, beliefs and socio- economic environments. Though the film will demonstrate the nuts and bolts of the SLI Program, it will, at heart, be the personal story of what it means to be an adolescent growing into a focused empowered adult regardless of personal, academic or physical struggles.
According to Dr. Cecilia L. Cunningham, founder and director of MCNC, this film is of particular importance at this time, as we see the national debates around public education, teacher efficacy, youth employment and career choices and a one size fits all assessment that measures a childs ability to meet standards. The SLI program addresses all of these issues and more and speaks to an alternative of performance based assessments.
MCNC is working to raise $ 100,000 to produce Walk With the Dreamers. You can be a part of this effort by contributing to the Indiegogo campaign at: