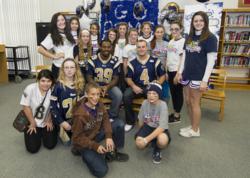 Saint Louis, Missouri (PRWEB) November 20, 2012
Rogers Middle School celebrated winning the Fuel Up To Play 60 National Touchdown Dance Challenge today, Nov. 20, with a visit from St. Louis Rams running back, Steven Jackson, and kicker, Greg Zuerlein. Rogers students Reja Franklin and Maria Stoencheva helped their school earn national recognition by submitting a video of their signature touchdown dance to FuelUpToPlay60.com. Their dance received the most online votes among four other finalists from across the country. As a part of their reward, Reja, Maria and a team of Rogers students got the chance to teach Steven and Greg their winning dance at the all-school assembly, followed by a question-and-answer session with the schools Fuel Up to Play 60 student team.
Fuel Up to Play 60 is an in-school nutrition and physical activity program provided in partnership with Midwest Dairy Council and the Saint Louis Rams that encourages students to eat healthy, be active and implement positive, healthy changes at school.
The students were so excited to host Steven Jackson and Greg Zuerlin here at Rogers, said Kathy Beezley, Fuel Up to Play 60 program advisor for Rogers Middle School. We want to thank the St. Louis Rams for their help in rewarding our students for their hard work and enthusiasm for Fuel Up to Play 60 it means so much to them.